Electric contractors for electrical certification and electrical condition reports in London
Are you looking for friendly, local and professional electricians for periodic electrical inspections? Perhaps you are a landlord who needs electrical certification because you have new tenants moving into your rental property? Or maybe you are a homeowner who wants NICEIC-approved electrical safety testing on a new home?
Working throughout South London, West London and the wider areas of the South East, MD Bespoke Solutions are a team of NICEIC-approved electrical contractors working in all areas of electrical services, including Electrical Installation Condition Reports (EICRs), electrical testing and electrical safety reports. No matter how simple or complex the job, we have the skill expertise and experience to help.
We can help with all manner of electrical testing, alongside a huge range of electrical, plumbing, building and Smart Home services.
These include:
EICRs
Domestic electrical safety reports
Commercial electrical safety reports
Electrical certification
Electrical safety audits
Consumer unit replacements
Full and partial rewiring
Inside and outdoor lighting
Smart technology
The old Periodic Electrical Inspection Reports were updated in 2012 and are now known as Electrical Installation Condition Reports (EICRs). All electrical systems will deteriorate over time, due to wear and tear, environmental conditions and other issues. It is recommended that installations are tested regularly to ensure safety and efficient working. If you are buying or selling a property then it is important to have an in-depth assessment of your electrics this will normally be more thorough than an inspection done by a surveyor and will save you money in the long-run, especially if there are problems with the system.
You can rest assured that your electrics are in safe hands when you come to us. We are members of government-backed TrustMark, so our work is guaranteed for six years and all of our work is also protected by £10 million public liability insurance.
If you have a project you need help with or you are concerned about electrical safety, please call us now on 020 8265 2061.
What is a periodic electrical inspection or EICR and how often do I need electrical testing in South London and West London?
An EICR is a formal document that is produced following an assessment of the electrical installation within a property. An EICR should always be carried out by a professional electrician or approved contractor, so all tests are done in accordance with BS 7671.
The test will, among other things:
Highlight any lack of bonding and earthing
Look at the type of wiring and its condition
Identify any defective electrical work
Show if any electrical circuits of equipment is overloaded
Any changes that may lead to unsafe conditions
EICRs are valid for up to 10 years depending on circumstances, including the condition of the installation at time of the inspection. In general, most homeowners are advised to have an EICR every decade. If you own a property, which you rent out, it is important to have an EICR carried out by a qualified electrician every five years or each time new tenants move into the property.
It is also recommended that a EICR is completed when a property changes hands. If you own a caravan the electrics should be tested every three years and if your property has a swimming pool, your electrics will need to be tested once a year.
Electrical safety test certificates for landlords in West London and South London
Electrical safety certificates are an important part of ensuring you comply with your legal obligations as a landlord and that your tenants are safe. As a landlord, you are obliged to ensure all electrical appliances and installations you supply are safe.
By law, landlords must:
Have a EICR or periodic inspection carried out by a registered electrician every five years.
Ensure that all electrical installations, such as sockets and light fittings are safe when tenants move into your property and are maintained well.
All electrical appliances that you supply, such as kettles and cookers, have a CE rating, as minimum.
If you do not comply with these and installations or appliances are deemed unsafe, the consequences are severe and include potential criminal charges, a £5000 fine and six months imprisonment.
Case Study: EICR for a landlord in London
Landlords must meet new legal requirements for electrical safety in rental properties, including the completion of regular EICRs. Failure to comply with the latest legislation can result in hefty fines.
We recently carried out a landlord EICR in London at a private rental property.
The Results
The EICR was relatively simple as it was a residential property rather than a large commercial building. Our checks identified a few improvements needed, and the landlord asked us to complete the necessary remedial work. We ensured the full report was sent to the landlord as quickly as possible for their records, and we received a 10/10 review from the client.
Any challenges?
The landlord has a busy schedule, so we needed to complete the checks at a convenient time while also working around the tenant's availability. We always try to be as flexible as we can with our EICR appointments, so luckily, we were able to find a time that suited all parties.
For NICEIC-approved testing, electrical inspection reports and electrical certification in West London and South London, get in touch today!
We are always happy to offer advice or a free, no-obligation quote for any of our services, please call now on 020 8265 2061, email info@mdbespokesolutions.com or fill in an online query form and we will get back to you as soon as possible.
FAQs About Our EICR Services in London
How long do EICRs take to complete?
EICRs are more in-depth than visual electrical tests, so we'll need several hours to carry out the necessary checks. However, we'll work closely with you to ensure disruptions are kept to a minimum.
Can you perform electrical testing at commercial premises?
Yes, we regularly carry out both domestic and commercial EICRs across the local area.
Do you offer emergency EICR appointments?
If your last EICR is about to expire and you need an urgent electrical contractor, please give us a call, and we'll let you know how quickly we can come out to you.
How much does an electrical certificate cost?
London EICR certificates start at just £150. Call now on 020 8265 2061 for a free quote.
Why hire MD Bespoke Solutions?
As a local NICEIC-registered contractor with years of expertise, you can expect your EICR to be carried out safely and efficiently with all findings detailed in your report.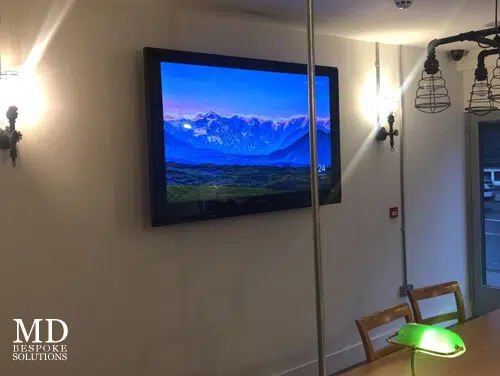 Need help with your EICR testing?
Our specialist team are on-hand to help guide you through the steps and keep your premises safe.
Call us now on 020 8265 2061 / 07476 661 777