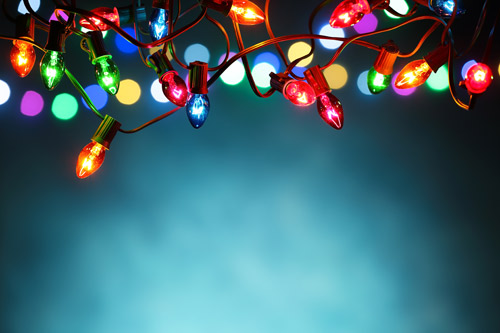 Christmas: the only time of year when it's normal to have strings and strings of multi-coloured LED bulbs draped along your home's guttering, a moving Santa Claus 'Ho-ho-hoing' in the front garden, and a pine tree hung with sparkly fairy lights in the lounge. While we know that making the home look bright and festive is a big part of Christmas (and we wouldn't have it any other way), it's important to be sensible with electricity this festive period so that you and your family can enjoy a happy, safe and stress-free Christmas.
There are plenty of 'dos and don'ts' when it comes to using electricity at Christmas. Here are some tips to help you stay safe.
Check your Christmas lights before plugging them in
Twelve months is a long time for any electrical item to be packed away, and there's a chance your fairy lights could get damaged or become unsafe during this time. After getting them down from the loft or out from under the bed, most people will instinctively plug in fairy lights to check that they're working – but you should always assess the condition of the bulbs and wires before connecting the Christmas lights to a power source.
If there are any loose wires, do not try to use the lights. Doing so could put your family at risk of electric shocks and might even cause an electrical fire, which could be disastrous. If you notice any broken bulbs, these should be replaced before you use the lights, though you need to take care that you only replace them with bulbs of the same type and rating. If any of the bulbs fail during use, they need to be replaced immediately to avoid overheating.
Only use purpose-built outdoor lights to decorate the outside of your home
It is incredibly dangerous to use regular indoor fairy lights for your outdoor Christmas display, as the bulbs and wiring are not built with the weatherproof casing and materials needed to protect the lights against the elements. If you want to hang fairy lights from your guttering or round the trees in your garden, you should only ever use outdoor lights.
Turn the Christmas lights off when you go out or to bed
There's no need to keep your Christmas lights on after you have gone to bed – you are not going to be around to enjoy them! Yet, so many people go to sleep without switching off their fairy lights and electrical displays. Just as you would never leave a candle unattended, you should always turn off and unplug your lights when you're not there to supervise them (this will also spare you from unnecessarily high energy bills!).
Here at MD Bespoke Solutions, our electricians are experts in keeping homes safe with the best wiring solutions. Contact us to find out more about electrical safety this Christmas.