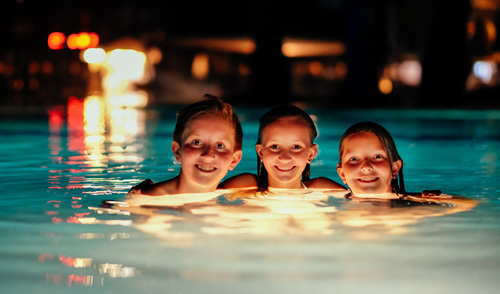 An outdoor swimming pool is a luxurious addition to the home, and one that can utterly transform the character of the garden. The simple effect of the water reflecting the lights, colours and shapes of a property makes the whole space look instantly larger and more appealing, which is why an outdoor swimming pool can add significant value to your home.
Whether you like to take a refreshing dip in the morning or prefer a calming night-time bathe, choosing the best lights for your pool is important for ensuring that you and your family are completely safe, and that your outdoor pool looks as beautiful as possible.
Here are some considerations to keep in mind when choosing lights for your outdoor swimming pool.
Do you want the lights to be underwater or around the pool?
Depending on the effect you want to achieve with your swimming pool, outdoor lights can either be fitted around the pool (as in, on the decking) or in the pool itself. Installing lights around the pool is an attractive way to light up the paths leading to the water, while underwater options create a gorgeous glow.
There are many different types of pool garden lights available, and where you fit them is dependent on which areas you need to light up for safety, and what effect you want to create. You could have spot lights fitted into the surrounding wall, patio or decking area, for example; or, if your pool is surrounded by a feature like a flowerbed or rockery, you might want to place bar lights in these areas so that they are visible when it is dark.
If you want the lights to be in the pool, then you have two options: you can either install flush-mounted or surface-mounted lights. The benefit of flush-mounted lights is that they are fixed into the wall of the pool, and do not protrude from it. Surface-mounted lights are simpler to install and can be retrofitted more easily than flush-mounted lights.
Would you prefer LED or solar-powered bulbs?
LED lights are bright, low-cost and widely available, and have virtually overtaken halogen lights as standard for outdoor swimming pools. They are also incredibly energy-efficient. If you want to really cut down on your electricity consumption, you could opt for solar-powered bulbs. This is a great option if you do not require your pool to be lit constantly.
While aesthetics are essential, the most important thing to remember when installing lights for your outdoor swimming pool is that you should hire a registered electrician to fit them!
Here at MD Bespoke Solutions, our expert electricians can help you choose the best lighting to make your outdoor swimming pool look beautiful. Contact us today to find out more.  We recently carried out a major house rewire in Steatham that also had pool lighting to be incorporated too.