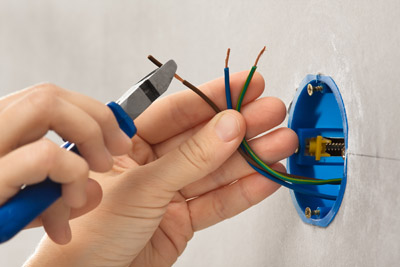 We think it's safe to say that when you're dealing with something as essential to your everyday life (and as potentially dangerous if you aren't qualified) as the electrics in your home, you want to know that the person undertaking the work can be trusted.
However, we also think it's fair to say that the world of electrics is not a particularly familiar one to all of us – it can be easy to shy away from it and let a contractor take the reins without asserting ourselves and asking questions. To help you navigate these uncharted waters, we've put together five questions that we think are 'musts' for anybody to ask (no matter what their experience level) when considering a contractor for electrical work.
Why should I trust you?
It might sound a little intense, but we're serious! A good contractor will happily tell you why they're a credible option – look out for the 'Trust Mark', which shows a contractor maintains government-endorsed standards, find out if they're an NICEIC-approved contractor, ask for examples of previous work they've undertaken and look at testimonials from other customers. Take our word for it – a trustworthy contractor will be thrilled to show off their glowing reviews and endorsements.
Can you meet my requirements?
It's important that you establish right from the off exactly what it is that you want – good communication is key here and a contractor shouldn't assume anything about what it is you need. Whether you're looking to light up your garden pathway or are interested in making energy efficiency a priority, make yourself clear from the off and ask if they can meet these needs – not only will this ensure that the work carried out is exactly what you want but it will also make your quote and the projected time the work is going to take as accurate as possible.
Who are your main suppliers?
As they build up relationships with them, contractors tend to use the same suppliers time and time again – ask who these suppliers are and then do your own bit of digging. A dependable contractor will have nothing to hide and should happily tell you which suppliers they prefer.
Do you offer a warranty?
If you're having something major like a rewire done to your home, you want to know that if there are any problems down the line, you're covered. Ask your contractor what their stance on warranties is – a respectable electrical contractor will happily provide a warranty as standard. It shows that they trust their own workmanship and gives you peace of mind in case anything does go wrong in the future.
How long and how much?
Okay so it's two questions in one, but we think they're closely linked. How much a job is going to cost and how long it's going to take are two of the major questions that you will want to know the answer to and that a good contractor will be frank and honest in answering. A professional will have no qualms in providing you with a free, no-obligation quote and will be realistic about the time a job will take to be completed to a high standard.
If you're looking for an electrical contractor you can trust in Kensington, Battersea or elsewhere in London, then MD Bespoke Solutions will be happy to answer any questions you might have. To learn more about our experienced and qualified electricians, get in touch.