EICR Testing & Surveys in Deptford
We offer Electrical Installation Condition Reports near Deptford, New Cross and the local areas.
Prices for Deptford EICR certificates start at just £175. Call 020 8265 2061.
Commercial condition reports and NICEIC-approved electrical testing Deptford, London
Here at MD Bespoke Solutions, we are a team of highly-skilled  and friendly electrical contractors covering a wide area of London and Surrey, including Deptford and New Cross. We pride ourselves on our attention to detail and customer care, along with our focus on electrical safety. All work is guaranteed for six years because we are members of the Government-backed scheme, Trustmark.
For many years we have served a loyal customer base of domestic, commercial and industrial clients, and we can carry out jobs of all sizes, from complete rewires of large commercial premises to the installation of Smart Home technology. As accredited members of the National Inspection Council for Electrical Installation Contracting (NICEIC), there will never be a compromise when it comes to the products we use and our level of workmanship.
We also offer a competitively-priced service, keeping our costs to a minimum and we can provide a no-obligation estimate at any time.
To talk to us about electrical safety audits, call now on 020 8265 2061.
EICR testing near Deptford and beyond
As the name implies an EICR is a report on the condition of the electrical installation and will highlight any deviations from the current revision of the electrical regulations, as well as highlighting any safety issues.
Every installation will degrade with use and over time and with use. We can periodically check your electrical installation to check its condition and that is functions as it should. Although for a privately owned domestic property there is no legal obligation to do this, it is always advisable to get your electrics tested no longer than once every decade.
There are many reasons to ensure your system is up to date. These include:
To check your building is compliant: Having a current EICR on a commercial building or renal property shows you understand the importance of compliance and your responsibilities set out in the Electricity at Work Regulations 1989 and the Health and Safety at Work Act 1974.
To prioritise safety: This will offer you peace of mind that your home or place of work is safe and the likelihood of injury due to fires or electric shocks has been reduced.
Insurance: Many insurance companies are requesting electrical testing is completed and evidenced on a regular basis.
Energy efficiency: EICRs will highlight areas where an electrical system can be improved to boost energy efficiency, which will reduce your carbon footprint.
Save money: By using less energy, you will save money on your fuel bills.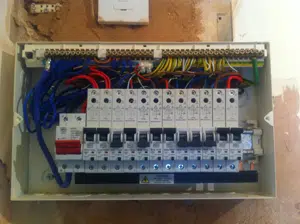 For more details about our electrical inspections, home buyer electric reports and electrical certification in Deptford, contact our electrical contractors
For quotes for NICEIC-approved testing, please call 020 8265 206 or email info@mdbespokesolutions.com
Need help with your EICR testing?
Our specialist team are on-hand to help guide you through the steps and keep your premises safe.
Call us now on 020 8265 2061 / 07476 661 777