EICR Testing & Surveys in Battersea
We offer Electrical Installation Condition Reports near Battersea, Lambeth and the local areas.
Prices for Battersea EICR certificates start at just £175. Call 020 8265 2061.
Specialist electrical contractors in and around Battersea and Lambeth, London
Are you a business owner looking for local electricians for a  commercial condition report in Battersea or Lambeth? Perhaps you are a landlord and unsure of your electrical safety obligations? Or maybe you are about to purchase a new property but are wondering about the benefits of a home buyer electric report? Here at MD Bespoke Solutions, we are a team of NICEIC-approved electrical contractors available for all types of electrical work in London and the wider areas.
For all types of electrical jobs, we are the team to call and the clue is in our name all our services are bespoke and tailor-made for our customers' needs. From replacing a socket, to full rewires in Battersea, you can rely on us to provide exceptional services, when you need them!
Our team of Part P electricians will ensure all jobs are done with the utmost professionalism and to the highest standards. We commit ourselves to completing all work within the agreed timeline, whilst also paying extra attention to detail. All our work is tested to BS7671, the national standard in the UK.
Our services include everything from consumer unit or fuse board upgrades, emergency electrical repairs, electrical safety audits, electrical inspections and electrical testing, through to LED lighting design, CCTV systems, emergency lighting and outdoor lighting. 
We also provide a wide range of building and home improvement services and our multi-disciplined team can assist you with: Installation of Smart Home technology, including digital lighting, CCTV and access control systems; plumbing and central heating; new builds, extensions, loft conversions and refurbishments; and more. Read our blog on the benefits of underfloor heating.
We pride ourselves on retaining a loyal customer base, whilst always welcoming new opportunities and forging new relationships.
Our customers include:
Residential home owners in Earls Court, Marylebone and Covent Garden
Business and commercial property owners
Property developers
Corporate contractors
Housing associations
Landlords
Letting and management agencies
We can design and install new installations, mend and repair existing ones and offer complete solutions to any domestic or commercial customers.
To find out more, ring us now on 020 8265 2061.
Electrical testing and electrical safety audits near you in Lambeth (SW2)
Electrical installations, like most things in life, will sustain damage in everyday service. Cabling, sockets and switches are all susceptible to damage and wear and tear over the years and other atmospheric conditions and other factors can accelerate the deterioration.
To minimise any risks and ensure your wiring complies with IEE Wiring Regulations 17th Edition, we offer a range of electrical testing. It is a statutory requirement that commercial and rental properties are regularly checked to ensure the safety. the regularity of inspections is determined by the function and the use of the building in question.
The regulations say: "All commercial electrical installations should be inspected and tested regularly to comply with current legislation and you must take proper precautions to reduce the risk of electrical failure causing injury or death. Since July 2008 IEE Regulations 2008 17th Edition, have brought testing into line with European standards."
All our electrical contractors are trained to the highest standards and have a wealth of experience in this area. We can issue landlord reports, home buyer electrical reports, commercial condition reports, electrical safety audits and EICRs (Electrical Installation Condition Reports).
Battersea EICRs: What are they for?
An EICR is the most common form of electrical test. The document will report any defects that are found, including everything from minor faults to immediately dangerous issues, along with all recommendations for safety improvements.
The main aims are to:
Record the results of the inspection and testing to make sure the electrical installation is safe to be used until the next inspection
Identify any non-compliances with the current edition of BS7671, which may cause danger
Find any damage that might cause high temperatures, electric shocks or burns
Provide an important record of the test for present and future
Although for privately-owned homes it is not a legal requirement to have an EICR performed on the electrical installation, it is advisable that it is checked at regular intervals. Most systems should be checked every 10 years or sooner, on the advice of a qualified electrician.
We also provide Periodic Inspection Reports or EICRs in Brentwood and Chessington.

Quotes for electrical certification in Battersea and Lambeth, call our team now
Please call us today on 020 8265 2061 or email info@mdbespokesolutions.com and we will be delighted to offer advice and a quote.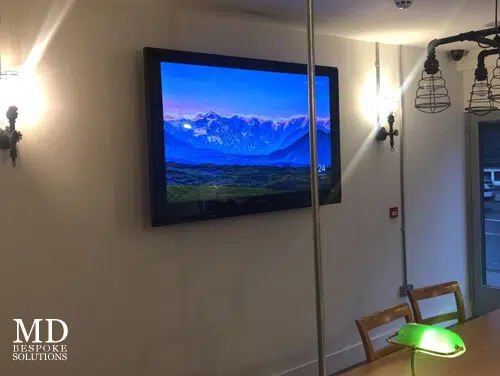 Issuing electrical safety certification in and around:
Need help with your EICR testing?
Our specialist team are on-hand to help guide you through the steps and keep your premises safe.
Call us now on 020 8265 2061 / 07476 661 777