If you are considering having any kind of electrical work carried out at your home or business premises, you need to know that it's safe. That means you'll need to see proof that your tradespeople hold the right accreditations.
Trustmark and the NICEIC are the two key accreditations we hold at MD Bespoke Solutions. We'd like to tell you more about them.
What is Trustmark?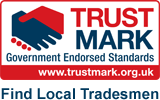 Trustmark is a non-profit-making organisation that was set up by the UK government. The government gives it its licence, and is supported by consumer protection groups across the country.
The main purpose of Trustmark is to give consumers peace-of-mind that the services they have hired are professional. This means that the contractor will deliver goods and services to the very best of standards, eliminating problems caused by cowboys and rogue traders.
To receive Trustmark accreditation, a company's technical skills are independently checked via regular inspections, and their trading record and financial status is also checked to make sure the business is being run in a proper manner. MD Bespoke Solutions are proud to be affiliated with the Trustmark, you can see our profile details here.
In addition, to obtain Trustmark accreditation, a company must sign up to a code of practice that includes insurance, good health & safety practices, and high levels of customer care. They will also have a user-friendly complaints procedure that you can use if issues do arise.
What is NICEIC?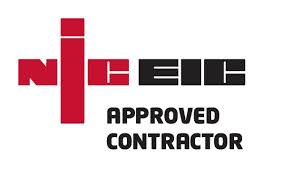 NICEIC is the National Inspection Council for Electrical Installation Contracting. It is the leading voluntary regulatory body for the electrical contracting industry in the United Kingdom, and has been assessing the competence of electricians for over half a century. There are over 26,000 registered electrical contractors in the NICEIC database, and that number is growing. But it's not easy to be a member.
To become an approved NICEIC contractor, a business must undergo a rigorous assessment process, which covers their work, their premises, the equipment they use. NICEIC also checks the competence of the staff. Contractors that receive NICEIC accreditation are reassessed on a regular basis to make sure they are continuing to adhere to the strict standards that are expected of them.
Contractors receive plenty of benefits from being NICEIC approved, including technical advice, high levels of training, industry literature and specialist contractor insurance.
Why are these regulations important?
Working with electricity is dangerous. Even relatively small voltages, such as those found in domestic electricity supplies, can seriously injure and even kill. For any kind of electrical work above wiring a plug, then for your safety and for the safety of anyone who lives in your home or visits your business premises, or anywhere where you are having electrical work carried out, it is always best to hire the services of someone who has industry-approved accreditation.
Companies should be proud to be regulated
Most companies take pride in the standard of the work they provide, and are proud to display their accreditations on their paperwork and other company literature. Having approval from both Trustmark and the NICEIC is the best way of displaying to consumers that a company is trustworthy, and works to all the necessarily high standards of safety, customer care, and customer satisfaction. If you're curious about our NICEIC and Trustmark accreditations, don't hesitate to contact us for advice.