Our customer had recently purchased a 4 bedroom detached house in Ashtead and was looking to make major improvements which included a full house-rewiring project.
We were enlisted to manage the full design and installation of the house rewire which included the installation of a new 17 edition consumer unit with 3 socket ring mains (kitchen, ground and first floor) plus new lighting circuits for ground and first floor.
The circuits where split in to 2 R.C.D. units to give a fail-over mechanism so that when one trips the house will still have some power sockets and lights on.
We installed an outside lighting system for extra security and to increase aesthetic look of the house and to create a welcoming feel when the daylight fades.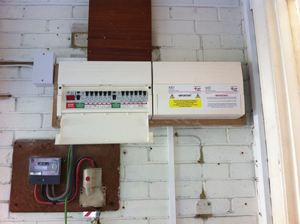 In addition to the visual elements in the house we also provided power for under floor heating in kitchen and toilets. This was all fitted within our initial design and supply brief with the client.
All works where completed on time and to latest regulations.
Customer was provided with BS certificate and all worked carried out passes all building control visits.
Works started beginning of January and was completed 9 of March.
Another MD Bespoke Solutions project completed and one more satisfied customer in our family.
What Our Customer Says!
We engaged MD Bespoke Solutions to fully re-wire a 4 bed detached house. Michael and his team have done a great job throughout; from the initial advice he gave to the execution of works.
We highly recommend him and would use his services again.
T. H., Ashtead, Surrey.