Does your domestic or commercial property in Southwark need rewiring?
For all your rewiring, consumer unit upgrades, fire alarms, general repairs and other electrical needs in Southwark and South London, you can rely on MD Bespoke Solutions. We are a team of fully-accredited, NICEIC-approved electrical contractors in London and are qualified to carry out all forms of wiring checks, system upgrades and electrical installations in homes and businesses.
We appreciate that the decision to rewire a property can be a daunting prospect. This is why we take time to guide you through the process, from recommending a thorough inspection if we think remedial work will need to be done, through to detailed planning so we can cater for your future electrical needs. After any rewiring work has been done, we will give you all the relevant paperwork saying that your property meets current electrical safety regulations.
There are several signs, which indicate your home could need rewiring. Here are just a few of them:
Age: If your home is over 25 to 30 years old and has not been rewired in that time, it is likely that your electrical installation could be putting you at risk. Tell-tale signs include round-pin plugs and rubber-covered wiring.
Tripping: Old wiring struggles to cope with the demands of a modern household, often causing fuses to trip regularly.
Damage: If there are any signs of burning, scorching or decolouration around power points, this is a sign that your wiring is damaged. Likewise, if there is persistent burning smell, which cannot be identified, this can show that your electrics are overheating.
Flood: If your property has suffered from flooding or other water damage, then the wiring could be faulty or weak. See an example of one of our rewires following water damage, on our blog.
For a detailed rewiring quote, please call us on 020 8265 2061 or 07476 661 777.
The cost of rewiring a property in Southwark, South London
The cost of a rewire will depend on a number of factors and how much work is needed. There will be some key factors that we take into account when we give you a quote, including:
The size of the property and number of bedrooms
The ease of access to wiring
The number of power points
The number and type of light fittings and switches
At MD Bespoke Solutions, rewires start from £1500 and every rewire comes with a full six-year warranty.
Consumer unit upgrades, fire alarms and more in borough of Southwark
Alongside partial and full house rewires, our team of Part P electricians carry out a range of other services, including fuse board upgrades, electrical repairs and testing. We also specialise in security solutions, including fire alarms, intruder alarms, CCTV and security lighting.
Contact our local emergency electricians and electricians for rewires near Southwark now!
To request a no-obligation quote or to speak to one of our electricians about rewiring or one of our other services, please call us on 020 8265 2061 or 07476 661 777 or email us at info@mdbespokesolutions.com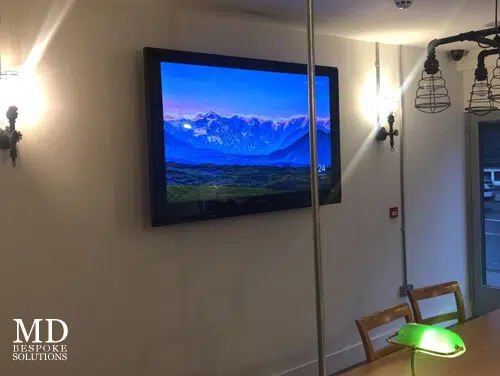 Providing rewiring in:
Charing Cross
Holborn
Covent Garden
Walworth