EICR Testing & Surveys in Barkingside
We offer Electrical Installation Condition Reports near Barkingside, Cranbrook and the local areas.
Prices for Barkingside EICR certificates start at just £175. Call 020 8265 2061.
Periodic electrical inspections in Barkingside, East London
We understand that owning a home can be a costly and frustrating process, and many of us neglect the necessary maintenance until it becomes a serious issue.
With electricity, it is simply unsafe to be negligent. According to a study carried out by the Electrical Safety Council, malfunctioning electrics are the cause of one death each week in the UK, which is why getting your electrics routinely tested could save your life.
Set out by Government guidelines,periodic electrical inspections are a necessary part of homeownership that guarantee safety and compliance with British National Standards.
At MD Bespoke, we only work with experienced NICEIC-approved contractors, meaning we are equipped to provide you with the best possible service. Based in the southeast, MD Bespoke operates throughout east London, with a team of experts serving all of Barkingside, Cranbrook, Redbridge, and Chase Cross.
Electrical reports for homebuyers in Cranbrook
Buying a property is a huge financial commitment and the investment of a lifetime. That's why it's important to protect yourself against any unexpected costs that you could face after purchasing the property.
One way to do this is to have a homebuyer electrical report carried out before you hand over your cash.
Also known as an EICR, which stands for Electrical Installation Condition Report, a homebuyer electrical report is a complete appraisal of the entire electrical system. They must be carried out by a qualified, expert professional. Here at MD Bespoke, we can provide this service throughout Cranbrook and the surrounding areas.
A homebuyer EICR will highlight any causes for concern, and identify any problem areas that might need a repair or replacement.
Need to book a homebuyer EICR? Get in touch with us today.
Landlord EICRs in Barkingside
Under recent legislation brought into force in July 2020, landlords owe a legal duty to their tenants to ensure that all electrics within the property are safe. This legal obligation means you'll need to get an EICR, or an Electrical Installation Condition Report carried out by a qualified electrician every five years.
If you fail to meet your obligation, your local council can fine you up to £30,000.
Don't put your Barkingside tenants at risk and expose yourself to a hefty penalty - schedule a landlord EICR today.

Business-owner EICRs in IG5
Are you a business owner in IG5?
If so, are you aware of your legal obligations in terms of getting your premise's electrics inspected?
Businesses are required to have EICRs carried out on their premises under the Health & Safety at Work Act 1974. This is in order to protect employees, members of the public, and any animals that come into contact with the business premises.
Our expert, qualified contractors at MD Bespoke will also ensure that all electrics on your premises measure up to the UK National Standard BS7671 Requirements for safe Electrical Installation. For business EICRs and periodic electrical inspections throughout London, get in touch with us today.
Get your free, no-obligation quote from MD Bespoke
If you'd like help on any electrical project in east London, MD Bespoke are on hand with expert electrical contractors who can offer experienced insight and advice. Fully NICEIC-approved, each of our local electricians can provide the following services:
House rewires
Consumer unit installation
Interior lighting design and installation
Exterior lighting design and installation
Electrical audits and surveys
Homebuyer EICRs
Landlord EICRs
To get your free, no-obligation quote, get in touch with us today on 020 8265 2061 or at info@mdbespokesolutions.com.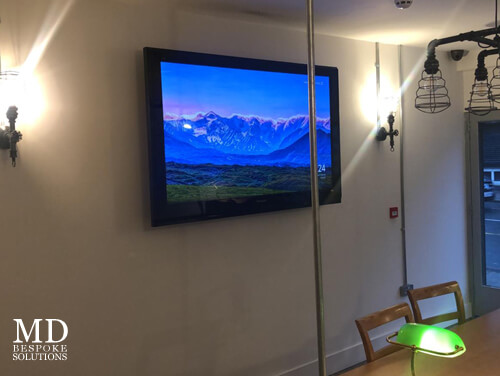 Issuing electrical safety certification in and around:
Chigwell
Goodmayes
Seven Kings
Snaresbrook
Woodford
Woodford Green
Need help with your EICR testing?
Our specialist team are on-hand to help guide you through the steps and keep your premises safe.
Call us now on 020 8265 2061 / 07476 661 777