EICR Testing & Surveys in Tottenham
We offer Electrical Installation Condition Reports near Tottenham, Haringey and the local areas.
Prices for Tottenham EICR certificates start at just £175. Call 020 8265 2061.
Landlord EICRs & periodic inspections in Tottenham, North London
If you're a landlord or business owner, we appreciate you have a lot of legalities to think about. One of particular importance, however, is your duty to ensure that all electrics within the property are safe, by having periodic inspections carried out by a qualified, NICEIC-approved electrician.
This duty applies to both landlords with active tenancies and those who operate a business premises. Requiring both to obtain Electrical Installation Condition Reports (EICRs) at regular intervals of five years, this legal duty will allow your local authority to impose fines of up to £30,000 where you haven't complied.
These are also known as periodic electrical inspections, and should only be carried out by qualified, NICEIC-approved electricians. With expert teams providing an incredibly high level of service, MD Bespoke operates throughout North London, providing EICRs and other electrical services in Tottenham, Haringey, Wood Green, and Hornsey.
All work that we carry out is backed by the TrustMark scheme, meaning we can provide you with a six-year guarantee on any electrical work we undertake. For minimal disruption and electrical expertise that you can rely on, contact us today.
Trustworthy & punctual electrical contractors in Haringey
Tired of unreliable tradespeople who overpromise and underdeliver? MD Bespoke takes great pride in our levels of exemplary customer care and satisfaction, with core values of honesty, transparency, and reliability. For complete customer peace of mind, we invite you to take a look at our profiles with the following bodies:
GasSafe
As a general tip, when looking for an electrical contractor in Haringey that you can trust, ensure that they are NICEIC-approved, as this means they are fully up to date with top-level training and undergo regular assessments (like us!).
Homebuyer EICRs in the Tottenham area
If you're a prospective homebuyer, you might be wondering why you have to pay to check out the electrics in a property that you don't yet own.
That's exactly the point  - before you commit your cash to a house, you'll want to know that everything is in order. If it's not, then you'll want an idea of how much it's going to cost you to put it right.
For example, if you're looking to buy an older, character property and renovate it - it may have an outdated electrical system which will mean the entire electrical system needs rewiring. This can be an expensive, time-consuming process and so you'll want to be fully aware of the potential costs you're taking on.
By having one of our friendly electricians come out to the property in or around the Tottenham area to perform a homebuyer EICR, you'll also be able to check over other integral elements of the electrics, such as the consumer unit, the amount of sockets, the lighting design, and what you might want to personalise should you purchase the property. This will give you a complete picture of the costs and timescale.
Commercial electrical audits in N17
Set out under the Health & Safety at Work Act 1974, mandatory EIC report requirements must be met in order to avoid substantial fines from your local authority.
MD Bespoke provides affordable EIC reports throughout N17 to ensure that your commercial premises comply with all relevant legislation, and that any employees, animals, and members of the public are safe when on the premises.
To find out your exact obligations or to get a free, no-obligation quote, get in touch with us today.
Get your free, no-obligation quote for electrical services in Tottenham, North London
Our team of fully-qualified, expert electrical contractors are local to you in Tottenham, and can provide any of the services mentioned above. We are also readily equipped to assist with:
House rewiring services
Consumer unit fitting
Interior lighting installation
Exterior lighting installation
Want to get a free, no-obligation quote? Call us on 020 8265 2061 or send an email to info@mdbespokesolutions.com.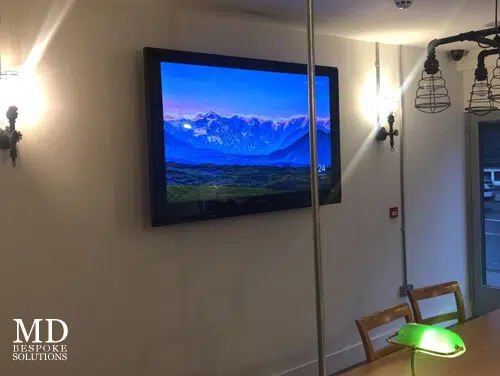 Issuing electrical safety certification in and around:
Leyton
Snaresbrook
Upper Clapton
Wood Green
Need help with your EICR testing?
Our specialist team are on-hand to help guide you through the steps and keep your premises safe.
Call us now on 020 8265 2061 / 07476 661 777