EICR Testing & Surveys in Sutton
We offer Electrical Installation Condition Reports near Sutton, Belmont and the local areas.
Prices for Sutton EICR certificates start at just £175. Call 020 8265 2061.
Electrical inspection reports in Sutton
Our NICEIC-approved electrical contractors provide a complete range of domestic and commercial electrical services to households and businesses in Sutton, Cheam and the nearby areas. Electrical Installation Testing is also referred to as Periodic Inspection or Electrical Installation Condition Report (EICR). It is a report checking the electrical wiring of a property, outlining any defects that it may have that might prove to be a safety hazard.
MD Bespoke Solutions has a long-standing history of high quality electrical testing and our fully qualified Part P-registered electricians ensure only the highest standards are adhered to. They have the knowledge and experience to perform both visual and manual electrical tests to ensure the safest and most secure practices possible. They will search for potentially dangerous defects in the system that could otherwise lead to electric shocks, fire or injury.
In time all electrical wiring begins to degrade and therefore it is essential to test all fixed wires. The Institute of Electrical Engineers (IEE) gives guidelines for the recommended timeframes for inspections, with three and five years recommended for most commercial premises and ten years for domestic properties. Other factors may also result in more frequent testing intervals.
Who needs an EICR?
Commercial premises
Industrial premises
Residential properties
Commercial and private landlords
Property managers
If you would like to get in touch with us, please call 020 8265 2061 or 07476 661 777 and we will book an appointment for you.
Domestic Electrical Safety Audits in Cheam
There are many reasons a domestic homeowner might request an EICR and these documents are always recommended to show an electrical installation is safe. If you are a landlord you are obliged by law to ensure all work on your property is carried out by a registered electrician and an inspection and test is carried out at least every five years or when there is a change of occupancy. If you are unsure about your legal requirements, please contact us and we can advise you.
An EICR is also recommended on domestic homes every ten years to check the condition of the electrical installation and ensure there is no deterioration. However, there are other reasons an EICR might be needed, such as:
If the installation is old, it will need to be checked more often
If the property has a swimming pool it will need to be checked every year
After flood or fire damage or of there are any concerns about the safety of the electrical installation
Change of usage of a domestic premises, such as change of occupancy in rental properties or if a property is being prepared to be sold or a property is being purchased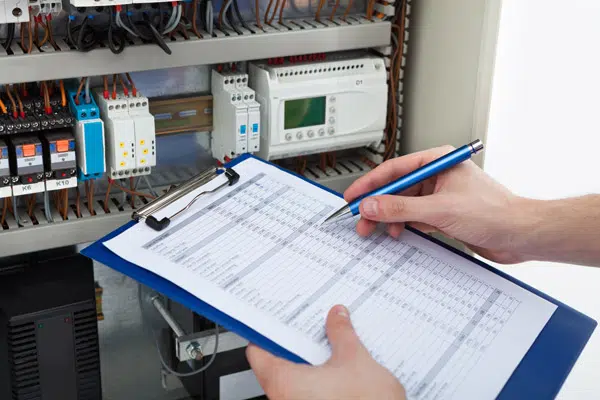 Commercial electrical testing in Sutton and how to contact us
To ensure legal and insurance compliance we offer a complete testing and inspection service for commercial customers. All work will be done to current regulations to ensure personnel and livestock are safe at all times. We offer very competitive rates starting from just £99 for small businesses.
To find out more, please call us on 020 8265 2061 or 07476 661 777 or email us at info@mdbespokesolutions.com and we will call you back.
Need help with your EICR testing?
Our specialist team are on-hand to help guide you through the steps and keep your premises safe.
Call us now on 020 8265 2061 / 07476 661 777