Full rewires and other electrical solutions in Wapping
A rewire is when an electrician replaces some or possibly all of the electrical wiring and accessories in a house, such as sockets, the fuse board and light switches. MD Bespoke Solutions are very experienced in this type of electrical work and have completed hundreds of rewires in Wapping, Shadwell and the nearby areas of London.
All properties will need to be rewired over time. If you currently own a property or are looking to buy a property that is more than 25 years old and the electrics have not been updated in this time, then it is likely that that it will need to have an electrical rewire. As time goes on, electrical cabling gets worn down and will need upgrading to avoid a potential fire hazard. A full rewire will also bring it up to current regulations and safety standards and will save you money on bills because modern electrical items are more energy efficient. If you are unsure if your property needs to be rewired, electrical testing should be completed to see how much work needs to be done. Equally, if you are considering buying a property and you are unsure how sound the electrics are it is important to get them inspected because a normal survey may not pick this up, leading to costly updates at a later time. Read our blog on homebuyer electric testing.
As experienced NICEIC-approved, Part P electrical contractors, we offer high quality services at affordable prices. We take great pride in our work and deliver solutions for domestic, commercial and industrial customers for a wide range of systems and budgets. We have a keen eye for detail and will always keep you informed every step of the way about the work we are doing. As well as this we are registered with TrustMark, so all work is covered by a 6-year work guarantee and we are members of the Electrical Safety Council, Electrical Safety Register and Rated People.
For more info, please ring us on 020 8265 2061 or 07476 661 777.
What is involved in a rewire in Wapping?
Electrical rewires can be done one of two ways: Flush or surface installation. Surface installation is where the cables are hidden with trunking or plastic cabling that is fixed to the ceilings or walls. The other method is flushing, where cables are flushed into homes by removing plaster and inserting the cabling then plastering over the top. This is the more permanent method but means that some redecoration will need to be done afterwards, which we can complete for you. Once all the circuits have been installed, the new sockets, accessories and switches are put in place and the system is tested, to check they comply with current regulations and safety standards.  We can then pass on all the certification for your records.
A rewire provides the ideal opportunity to upgrade your wiring and our experienced team can help advise you on this matter.
Call our NICEIC-approved electricians for rewires, consumer unit upgrades and other electrical services in Wapping
Call us now on 020 8265 2061 or 07476 661 777, email info@mdbespokesolutions.com or complete our contact form.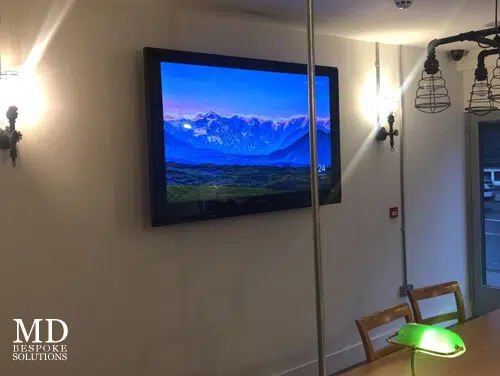 Providing rewiring in:
Rotherhithe
Bethnal Green
Spitalfields
Limehouse
Stepney
Poplar
New Cross