House and office rewires in Waltham Forest, London
Many houses and offices have old wiring. As well as being unsafe because old wiring could cause a fire or electric shock, any old wiring will always be highlighted as a major problem during a survey. MD Bespoke Solutions can carry out a full or partial rewire in your domestic or commercial premises in Waltham Forest, Tottenham or the wider areas of London and the South East.
Ways to tell if your house might need a rewire:
Does you fuse box have replaceable fuse wire?
Do your fuses blow regularly?
Is there a persisting burning smell with no identifiable source?
Do your plugs or sockets get very hot or have burn or scorch marks?
Do you have rubber-covered cables?
Do you have frequent power outages?
Does your fuse box have a wooden back or cast iron switches?
Do you have older round-pin sockets or round light switches?
House rewiring needs to be done by a professional Part P electrician. All our electrical services are carried out to conform to current standards and appropriate Part P documentation is issued upon completion of any rewire. All our work is fully guaranteed. Our aim is to offer great service for an affordable price, so if you are interested in rewiring, please call us on 020 8265 2061 or 07476 661 777.
Four reasons you need to rewire your Waltham Forest (E10) home
Wiring deteriorates over time. If your wiring is more than 25 years old, it is almost certain you will need a complete rewire. If part of the electrical installation can be saved, then we can do a partial rewire.
Wiring that is old is not designed to deal with the kind of demand we have for electrical equipment, such a computers, laptops and other devices. In an older home, where the wiring has not been upgraded your usage may be putting a strain on the system.
If you want to sell your home, potential buyers and mortgage lenders will need to know that your house is safe. A rewire is a wise investment if you are thinking about putting your home on the market and your wiring needs updating.
First and foremost, old wiring could cause electric shocks and fire. According to statistics 70 people are killed and 350,000 are seriously injured due to an electrical accident in the home.
Emergency electrical services in Waltham Forest
We are on standby 24 hours a day for emergency works and we can be at your home promptly to deal with any problems you may have. We will always endeavour to fix any problems there and then.
What other services do MD Bespoke Solutions offer?
Contact our Waltham Forest electricians today!
We can help you with any electrical problems, so give us a call today on 020 8265 2061 or 07476 661 777, email info@mdbespokesolutions.com or fill out an online contact form.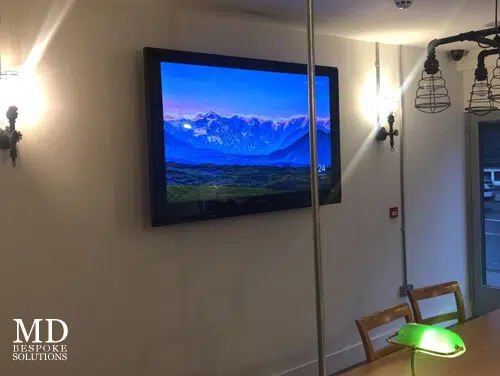 Providing rewiring in:
Snaresbrook
Leyton
Woodford Green
Upper Clapton