Electrical services and rewires in Hayes
How safe is the wiring in your home in Hayes or West Drayton? When was the last time you had your electrics checked? Two years ago? 10 or 20 years ago? Statistics show that unsafe electrical installations cause more than 750 accidents and 12,500 fires in homes every year. The safety of your electrical system may not feel like a priority but it is important that you get your electrics checked by a professional every 10 years, because in less time than you think, your electrics can be damaged through general wear and tea and can become dangerous to use. Here at MD Bespoke Solutions, we have vast experience of providing customers with an installation that is tailor-made to suit their needs, minimising disruption and stress and for a very competitive price.
If your wiring is 20 to 30 years old, then you may be compromising the safety of your home and the people who live in it. Older electrical systems are also unlikely to meet your demand for power. Most building and contents insurance policies also require that properties have current certification verifying that the electrical installation is safe. Read our blog on tips for home electrical safety.
Here at MD Bespoke Solutions we have been rewiring properties over a number of decades and have vast experience and expertise in carrying our rewiring jobs. All our electrical contractors are NICEIC-approved and Part P complaint. We pride ourselves in providing an unrivalled service and making every effort to minimise disruption. With our experience, we aim to keep any damage to existing décor to a minimum and will always redecorate at your request. All our electrical services are offered at highly competitive prices and our full house rewires start from just £1500 and our consumer unit upgrades start from £399. All our house rewires comes with a full six-year warranty.
If you would like to know more, please call us on 020 8265 2061 or 07476 661 777.
What will happen during a rewire in Hayes?
Rewiring a house can be a time-consuming and complex process, which involves stripping all electrical cabling and accessories and replacing them with new ones. All rewires include a consumer unit upgrade. There will be a certain amount of damage to the walls because wires run behind plasterboard in many properties and carpets will need to be lifted, so wires can be run under the floor.
This is why we recommend that if your house needs to be rewired this is done at the same time as any other house improvement work. It is also a good opportunity to upgrade your lighting and security and the convenience of your home electrics. Our price includes all relevant safety checks and tests and after any work, will pass all the relevant paperwork onto you for your records.
Custom quotes for rewires by local electricians in Hayes
To talk about your house rewire or any other work you need, call us on 020 8265 2061, email us at info@mdbespokesolutions.com or fill out an online contact form.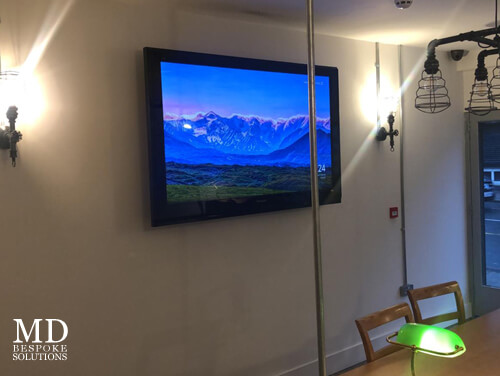 Providing rewiring in:
Cranford
West Drayton
Cowley
Yiewsley
Southall
Norwood
Heston
Northolt
Bedfont