EICR Testing & Surveys in Shepperton
We offer Electrical Installation Condition Reports near Shepperton, Littleton and the local areas.
Prices for Shepperton EICR certificates start at just £175. Call 020 8265 2061.
EICR specialists in Shepperton, Middlesex   Book your next electrical certification now
It can be challenging trying to find an EICR electrical contractor you can rely on time and time again, which is why MD Bespoke Solutions has worked so hard to deliver first-class services across the area. If you need a new Electrical Installation Condition Report in Shepperton, Littleton, Laleham, Ashford or Weybridge, get in touch with our team today.
We want our electrical solutions to be as accessible as possible, offering value for money services, competitive quotes and impeccable communication throughout every job. We regularly work with local landlords and property owners, ensuring services are tailored to the needs of our clients. This includes offering both domestic and commercial EICRs.
As well as periodic electrical inspections, we provide an array of other bespoke services, from high-quality redesigns and installations to upgrades, repairs and maintenance work. We cover lighting, alarms, rewiring, consumer units, new fittings, CCTV and more.
For a free, no-obligation estimate, or to book a homebuyers report to assess your electrics as soon as possible, call us directly on 020 8265 2061.
Fast electrician certifications near Littleton for commercial and domestic properties
Need a new electrical certification near Littleton or Shepperton? If you're a landlord or business, make sure you don't miss your EICR renewal date, or you could risk breaching your health and safety obligations. Recent changes came in which affect landlords in the private rental sector too, so it's vital you schedule your next electrical safety audit at all properties you own. We also come out to domestic properties where homeowners want a more up to date electrical inspection report or they're going through a house sale.
Unfortunately, most electrical installations will degrade in quality over time, but you can pick up faults and defects with an up to date electrical inspection report. This will stop any risks developing further over the next few years, which can even cause shocks or fires in the most severe cases.
Our skilled electrical contractors will survey your installations to ensure they're still safe to use and are compliant with the most up to date standards. If there are any hazards requiring remedial actions or areas for improvement, we'll let you know on the day and detail all findings in your report.
We're the KT12 NICEIC approved testing experts
Our qualified, highly trained electricians operate across all KT12 locations, performing electrical testing and other services to the highest of standards. Most EICRs take around 3 to 4 hours to complete, depending on the size of the building and how many electrical installations need assessing. We're NICEIC registered and insured, so you can rest assured you're in expert hands. It also makes things hassle-free for you as we can self-certify our work.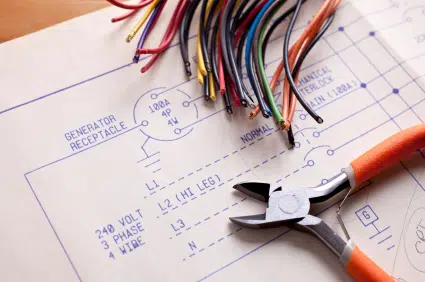 Book a periodic electrical inspection in Shepperton now
If you need an electrical condition report completed for a single or multiple properties, call our Shepperton contractors today. We're specialists in EICR testing, as well as offering an array of other electrical solutions. We pride ourselves on friendly, professional services, working quickly and efficiently to ensure your electrics are completely safe. If we do find anything wrong, we can book in repairs for you as soon as we can.
To arrange an appointment with one of our contractors, call now on 020 8265 2061 or email info@mdbespokesolutions.com.
Need help with your EICR testing?
Our specialist team are on-hand to help guide you through the steps and keep your premises safe.
Call us now on 020 8265 2061 / 07476 661 777