EICR Testing & Surveys in Newham
We offer Electrical Installation Condition Reports near Newham, West Ham and the local areas.
Prices for Newham EICR certificates start at just £175. Call 020 8265 2061.
Periodic electrical inspection services near Newham book your EICR in East London
You should always check and maintain the condition of your electrical installations, and one of the easiest ways to do this is to book an EICR. This type of electrical certification will aim to locate any defects present and advise property owners about the risks. If you need an urgent Electrical Installation Condition Report or the next one is coming up to the renewal date, book this in now with MD Bespoke Solutions. We're NICEIC approved contractors for Newham, West Ham, East Ham, Stratford and Beckton.
Our experienced electricians are highly qualified to perform electrical tests in your property. We complete in-depth assessments at domestic, commercial and landlord owned buildings across the local area. We aim to quickly determine whether your electrics are safe to use, recommending necessary actions if required, making everything as hassle-free as possible for you.
As well as electrical condition reports, we provide a comprehensive range of services, all tailored to your individual requirements. This includes system redesigns, safe installations, ongoing maintenance and fast repairs.
Choose MD Bespoke Solutions for:
EICRs
Lighting
Consumer units
Rewires
CCTV cameras
Fire Alarms
Smart Systems
Ask for a free, competitive quote for any professional electrical service offered by our team.
Choose NICEIC approved testing with your local West Ham electric contractors
We come out to all types of property to perform EICR testing, including hotels, retail outlets, pubs, apartments, offices and private homes. We can even provide a homebuyer electrical report if you need it for your property sale.
Our Newham and West Ham electricians won't just look at the system visually. It takes a few hours to inspect the system properly. Over time, it's natural for electrics to experience deterioration, so if there are any repairs or upgrades required to get them in line with safety standards, we'll make this clear.
If we do identify risks, these are assigned a code to explain the level of danger present. For example, C1 represents serious hazards requiring urgent work, C2 highlights risks which could become dangerous and C3 will let you know the areas for improvement. Don't worry about interpreting your report your MD Bespoke electrical contractor will talk through the findings with you, and may be able to perform the repairs.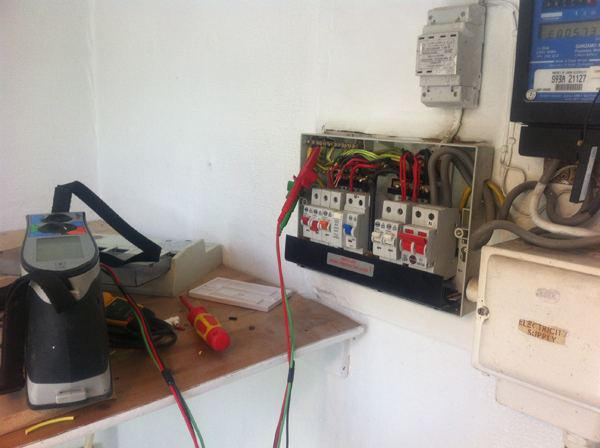 E12 electrical inspection report specialists
If you've been searching for a reliable electrical company in E12, you're in the right place. We're registered with NICEIC, which means we're assessed regularly, ensuring we meet all the expected safety and quality standards. We're here to help you with all your electrical needs, from urgent EICRs and inspections to full system redesigns and maintenance requirements.
We offer excellent communication throughout the process so that it's stress-free for our customers. Therefore, you'll always know what's happening and what the findings are.
Rest assured we're fully insured and covered by TrustMark.
Book an EICR electrical safety audit in Newham today
Do you need to book your next EICR near Newham? Our expert team will talk you through the details, explaining what happens next and when your appointment will be. We'll always try to find a time convenient for your needs, especially if you're a business and need us to work around opening hours. To get in touch, send a message to info@mdbespokesolutions.com or call us directly on 020 8265 2061.
Need help with your EICR testing?
Our specialist team are on-hand to help guide you through the steps and keep your premises safe.
Call us now on 020 8265 2061 / 07476 661 777