EICR Testing & Surveys in Finchley
We offer Electrical Installation Condition Reports near Finchley, Barnet and the local areas.
Prices for Finchley EICR certificates start at just £175. Call 020 8265 2061.
Electrical contractors near Finchley, London, for EICRs and PIRs
Are you looking for quality and affordable NICEIC-approved testing in Finchley, Muswell Hill or one of the nearby areas of London? MD Bespoke Solutions is an independent team of Part P domestic and commercial electricians offering several electrical services throughout the local areas, including surveys and electrical safety audits. From rewires in Finchley, to commercial condition reports, we are here to help.
It is important to care about electrical safety and efficiency of any property that you own. Electrics will naturally tire and decay with age. Unlike other aspects of property maintenance, we also cannot see a lot of what is going on with our electrics. Therefore, it is essential to employ a professional electrical contractor to do all testing and other electric work.
We take on projects of all sizes and are professional, efficient and friendly. Whether it is routine maintenance work or emergency fault finding and repairs, our team will have the knowledge, skills and expertise to sort it out.
All work follows IEE Wiring Regulations (BS 7671:2008) and we are and fully-insured with public liability insurance to the value of £10million.
All domestic and commercial work: We complete all types of electrical work, including rewires, lighting design, exterior lighting, consumer unit and fuse board installations, Smart Home technology and LED lighting. We can help with all sorts of building and renovation jobs. Read our blog on everything you need to know about wiring your loft conversion.
EICRs and more: We complete various  electrical safety audits and tests, including Electrical Installation Condition Reports (EICRs) formerly known as Periodic Inspection Reports (PIRS), condition reports electrical, commercial condition reports and home buyer electric tests.
Local and recommended: We come highly recommended locally and work throughout Surrey and London, including in Dagenham and Brent.
Competitive prices: We offer the highest quality of work for a fixed and fully transparent price. Our affordable EICRs are priced from just £190 for properties with less than 10 circuits on the fuse board. If your property is larger than this, the cost will depend on the size of the installation, its condition and the time required to test it.
For more info, call now on 020 8265 2061.
EICRs and what they mean for your Muswell Hill (N12) property
An EICR is exactly what it says it is: A detailed report of the existing wiring installation and its condition. In order to make understanding and actioning the information, all reports are issued with the relevant fault codes:
C1 stands for immediate danger
C2 means that there is a potentially dangerous condition
C3 codes stand for when improvements are recommended to comply with current regulations.
If there are any of these codes present, you must act to prevent risk of faults and fire. If there are any C1 or C2 codes, then the EICR will be deemed as unsatisfactory.
Do I need an EICR?
If you have ever wondered if you need an EICR (Electrical Installation Condition Report), the answer is yes. Whether you own your own home or a property, which you rent out, or you are responsible for a non-domestic property, an EICR is always necessary.
Home-owners: Whilst it may not be a legal requirement within owner-occupied homes to have an EICR, home owners should have their electrics tested regularly, to ensure they are safe to use and are functioning correctly. This will minimise the chance of electrical faults, which could lead to electric shocks or fire and even be a risk to life. EICRs are often recommended during the house buying and selling process.
Businesses: Employers are legally responsible for the health and safety of their employees under the Health and Safety at Work Act 1974. They are also required to safeguard staff against the risk of injury sustained from electricity used during work conditions under the Electricity at Work Regulations 1989.
Landlords: Landlords have a duty of care towards their tenants under The Landlords and Tenants Act 1985, and this ensures checking the electrics within their rental properties are safe at the start of a tenancy and maintained throughout. EICRs for both landlords and businesses provide proof that they have met their legal obligations and are often required for insurance purposes.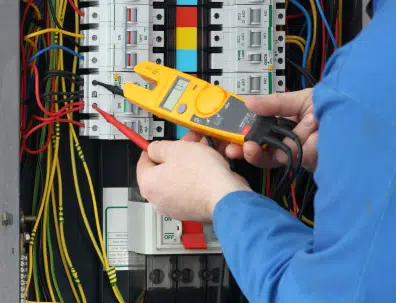 Home buyer electric tests in and around Finchley
If you are buying any expensive item, you would thoroughly check it first and the same applies to a home. Our home buyer's electric test is a detailed survey of your potential property's electrics, so any remedial work can be factored into the negotiation process. The last thing you will want is more unexpected cost and this test will also offer you valuable peace of mind.
For periodic electrical inspections in Finchley, call our team now
Whatever your business or electrical requirements, our team can help. We can be reached on 020 8265 2061 or via email at info@mdbespokesolutions.com.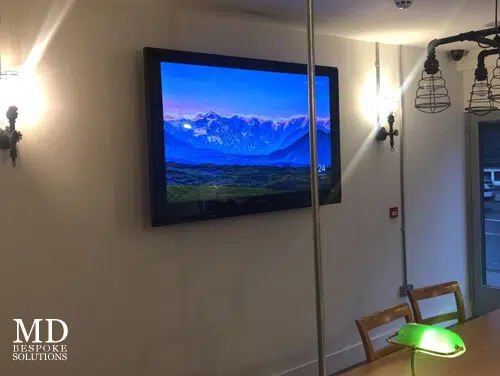 Issuing electrical safety certification in and around:
East Finchley, Barnet, Hendon, Mill Hill, New Southgate, Whetstone
Totteridge and Golders Green
Need help with your EICR testing?
Our specialist team are on-hand to help guide you through the steps and keep your premises safe.
Call us now on 020 8265 2061 / 07476 661 777