Electrical rewiring specialists in Walton-on-Thames
Do you need to rewire your home? Do you want the job done efficiently, to the highest spec and with as little hassle as possible? Then you have come to the right place! Here at MD Bespoke Solutions, we are a team of professional and highly skilled electricians specialising in electrical rewiring in Walton-on-Thames and electrical repairs in Weybridge.
Rewiring a home is not an easy project and involves lifting floors, accessing basements and attics and replacing the electrical wiring in every room of your home, including all sockets, lights and switches. However, this is an important job because it will ensure your property's electrics match today's standards, increasing safety and potentially providing better and more functional outlets for your energy. Modern safety devices, like fuse boards will provide protection from electric shocks and fire. We can provide a personalised service and can give you detailed advice if you are contemplating a complete or partial rewire for your Walton-on-Thames property. For an example or our work, see a recent flat rewire installation.
Alongside rewires, we also provide a full range of other electrical services, including fault finding, testing, reports and installation of lighting, CCTV, intruder and fire alarms and smart technology. We also offer building services, such as loft extensions and can deal with all aspects of painting and decorating, heating and plumbing and plastering.
To get a quote for the electrical rewiring of your property in Walton-on-Thames, or any of our other services, please call 020 8265 2061 or 07476 661 777.
Fuse board upgrades in Walton-on-Thames
If you live in an old building or have an outdated electrical wiring system, it might be time for a fuse board or consumer unit replacement. Our team of NICEIC-registered and Part P approved electricians can replace or update your fuse board so it meets the most recent 17th Edition IEE Wiring Regulations in order to give your home a safer electrical infrastructure, giving you valuable peace of mind.
Our consumer unit replacements start from just £399 and include the cost of the hardware and we operate seven days a week for your convenience. After every installation, we will give you a safety certificate for your records. As members of TrustMark, all out work is guaranteed for six years. To read about when it's time for a new fuse board, read our blog.
Fire alarms and more in Walton-on-Thames
As well as all types of electrical services, such as lighting design and installation, testing and certificates, we also specialise in security services. We are committed to providing a complete range of protection systems including fire alarms.
A well-designed fire alarm in your property will protect you, your family, or staff, reduce you insurance costs and comply with legislation. We can advise you on the nest way to protect your possessions and loves ones and design a system completely bespoke to your needs. We also provide a comprehensive fire alarm maintenance, so your system continues to function to its full capacity.
We also supply and install CCTV systems and intruder alarms from domestic and commercial customers.
For more details of our electrical services in Walton-on-Thames, get in touch!
Contact us on 020 8265 2061 or 07476 661 777, email info@mdbespokesolutions.com or submit a contact form on our website.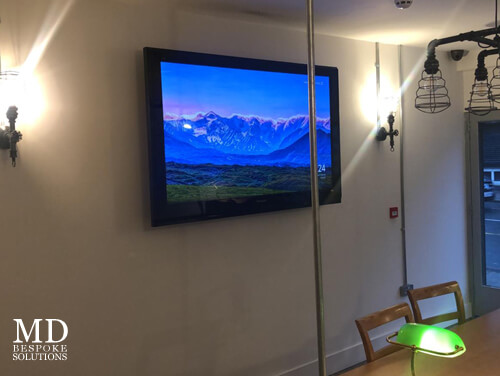 Providing rewiring in:
Walton on Thames
Shepperton
Lower Sunbury
Sunbury
Oatlands Park
West Molesey
Elmbridge
Hampton
Laleham
Ashford
Molesey
East Molesey
Hanworth
Hampton Hill