Rewiring your Twickenham property is essential if your family is at risk
If you are looking for a qualified and professional electrician for rewiring in Twickenham or Whitton, we recommend you take advantage of all the experience we have gained over the years working on hundreds of rewires in the South East. Over the years, your electrical system will deteriorate and can become hazardous and dangerous to use. For this reason, it is essential that you get a professional Part P electrician to come and inspect your system, so you can keep your family safe from the risk of electrical fires and shocks.
Important works might include:
Complete home or property rewiring
Partial home or property rewiring
Consumer unit replacement or upgrades
Additional power outlets
We will ensure that any rewire is completed with minimal disruption and we will always leave your home immaculately clean and tidy. The benefits of rewiring include not only the knowledge that you are protecting yourself and your family from the potential of electrical fires and shocks but you could also reduce your insurance premiums and increase the value of your property.
You can stay living in your property while the work is being done but it is a messy and dusty job. Carpets and floorboards will need to be lifted to run new electrical cables and some redecorating work may need to be done afterwards if wires are also run in wall cavities and inside the ceiling. We can do this for you, so you do not need to worry about employing another contractor after the rewire has been completed.
We are more than happy to come to your home and inspect the current wiring system and give you a free, no-obligation quote. To find out more, please call 020 8265 2061 or 07476 661 777. We will work with you ensure your home is safe!
Smoke alarms and fire alarms in Whitton
Fire alarms are extremely important safety devices and without a properly installed and maintained fire alarm, the risk of death by a domestic fire is three times as high than if you did have a smoke detector installed. Smoke detectors will give you and your family or co-workers an early warning of fire and it is a relatively low cost job.
We are specialists at designing sleek and unobtrusive fire alarms for homeowners that will last a lifetime. For commercial premises, we can install a system that ensures your staff are fully protected at all times. We can also offer regular maintenance and testing, to check that your system is working well. Once any fire alarm installation is complete, we will give you the relevant safety certificates for your records.
Emergency electricians in Twickenham
When you have an electrical emergency, there's not a moment to waste! Loss of power to your home or business can be extremely disruptive and you can rely on us to respond quickly and efficiently day or night! Our NICEIC-approved electricians will diagnose and rectify the problem to minimise disturbance to your home or business.
To speak to our recommended electricians for rewires and other electrical services in Twickenham, call us now!
We are here whenever you need us! Call now on 020 8265 2061, email info@mdbespokesolutions.com or fill out an online query form.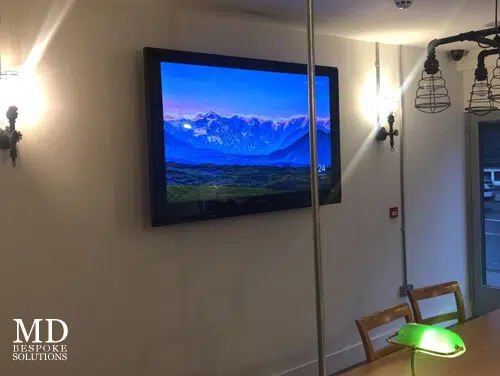 Providing rewiring in:
Hanworth
Teddington
Hampton Hill