Rewire your property in Staines-upon-Thames and get your electrics up to date!
A house rewire is a major job but if your electrical system wiring in Staines-upon-Thames or Runnymede is old or inadequate, a rewire is an urgent safety matter. There are many ways to complete a house rewire and the first thing is to determine the extent of the rewiring project and whether you need a complete rewire or just a partial one. MD Bespoke Solutions are rewiring specialists and one of our NICEIC-approved electricians can inspect the state of your electrical installation and make recommendations regarding the extent of work that will need to be done.
Even if safety issues are not enough to convince you to update your electrical installation, then you will need to get your electrics updated before you sell your house a basic survey will reveal inadequate or defective electrics. If you are buying an older property, then you will need to factor in the cost of any electrical upgrade into the purchase of your new property.
If you have worries that your electrical system is either inadequate or too old, it is essential to get a qualified electrician to inspect it. This is not a job for a DIY enthusiast or optimistic homeowner and Part P now states that anyone carrying out electrical installation work in home must be qualified to ensure it protects people from fire and electric shocks.
We can also help with the following services:
Consumer unit upgrades and inspections
Garden, external and security lighting
Interior lighting design and installation
Domestic and commercial smoke detectors and fire alarms
Extra sockets and lights
LED lighting
House extension electrics
CCTV installations, maintenance and repair
Testing and certificates
Fault finding and emergency repairs
Electrical Installation Condition Reports (EICRs) and other reports
Building work
For more details, please call us on 020 8265 2061 or 07476 661 777.
Complete and partial rewires done efficiently and professionally in Runnymede
Electrical rewiring is a big job but it will not put your life on hold. We can complete a rewire while a property is vacant or while you are living there and we can ensure you have power outside of working hours. We will also clean up after ourselves each day. The work can be invasive, so some plastering and redecorating can be done afterwards but we can also help you with this. Read our blog about whether rewiring is messy.
We always use high quality products that are built to last and rewiring is an ideal opportunity to make your electrical system more efficient and install new energy efficient or LED lighting, along with new outlets for power.
Consumer unit or fuse board upgrades in Staines-upon-Thames
How old is your fuse board or consumer unit? Old-style fuse boards are more likely to cause electrical fires, whereas newer 17th Edition consumer units isolate and control a faulty electrical circuit in a fraction of a second, ensuring the safety of you, your family or your co-workers.
Local electricians for expert rewires, consumer unit upgrades and other electrical repairs and services in Staines-upon-Thames
Call 020 8265 2061, email info@mdbespokesolutions.com or fill out an online contact form.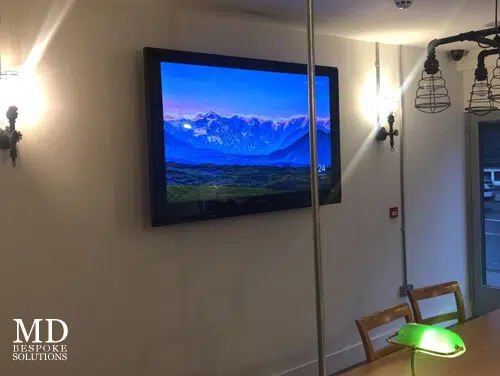 Providing rewiring in:
Thorpe
Stanwell
Wraysbury
Ashford
Colnbrook
Laleham
Bedfont
Englefield Green
Datchet