Electrical rewiring for houses and commercial premises in Limpsfield
MD Bespoke Solutions are a team of NICEIC-approved electrical contractors, meaning that all our work is constantly being monitored and is therefore of an exceptional standard. Our team of highly qualified and professional electricians are capable of undertaking a huge variety of electrical jobs, including partial and complete rewiring in Limpsfield, Toy's Hill and the nearby villages, towns and counties.
Our electricians will inspect and test the current condition of your electrics and be able to advise you on the best course of action should they detect any problems. All our work meets current regulations and is done professionally and efficiently.
Current industry guidelines state that properties should be completely rewired every 25 years or sooner, due to the typical deterioration of connections, cabling and components. Sometimes, due to a reason such as a home being flooded, a homeowner might need to get their property rewired sooner. There are many signs that your electrical installation could be unsafe, the most common of which are recurrent tripping or blowing of fuses, outdated wiring types such as rubber wiring and flickering lights.
All of our electricians are specialists in their field and have the expertise to handle even the largest of rewires. Our services include:
Full and partial house rewiring by certified electricians
Home electrical installations
House extension electrics
Consumer unit repairs and upgrades
Testing, inspection and electrical reports
General electrics, including fault finding and maintenance
Outside and garden lighting
Security lighting
Interior lighting design and installation
Fire alarm installation and testing
CCTV installation, maintenance and repairs
Emergency electricians in Limpsfield
Earthing and bonding
Smart technology
For more information or to request a free quotation, ring us on 020 8265 2061 or 07476 661 777.
Consumer unit upgrades in Toy's Hill
There are a number of reasons that your consumer unit might need to be upgraded. It may be for safety or maintenance reasons or it may be that the old fuse board does not have the capacity for the installation of new circuits. Modern consumer units incorporate residual current devices (RCDs) that will help protect you against the risk of electric shock or fire.
A modern consumer unit will disconnect the electric supply in the event of a fault far quicker than the older-style fuse boards. If you are thinking about selling your home a new consumer unit with an Electrical Installation Certificate shows that the installation meets current regulations and is in good condition.
Emergency repairs and fault finding in Limpsfield
A wide range of electrical faults could occur on any installation at any time. Certain faults might cause severe disruption to your everyday life. You can feel confident that we will treat your call-out with the utmost urgency. We can diagnose any problems using our expertise and specialist testing equipment and repair it there and then. Read our blog on what to do in an electrical emergency.
Need us quick? Contact our emergency and local electricians in Limpsfield for rewires and more!
Please ring us on us on 020 8265 2061, email info@mdbespokesolutions.com or fill out a quick online contact form and we will give you a call back.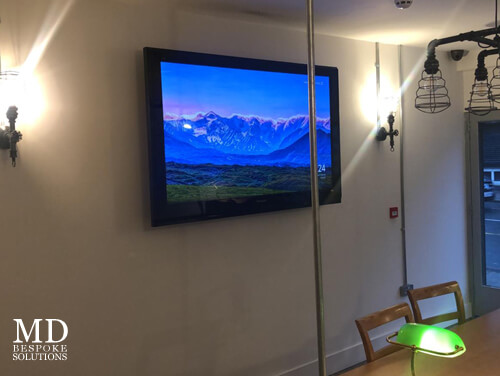 Providing rewiring in:
Titsey
Crockham Hill
Tatsfield
Tandridge
Crowhurst
Brasted