Professional house and flat rewiring in Kingston upon Thames
It can often be all too easy to overlook the importance of effective and functional electrical systems, that is, until you for whatever reason one day find yourself without them. Whether you're a homeowner, landlord or business owner, our reliance on electricity has never been so great. At MD Bespoke Solutions we're proud to provide quality electrical services in Kingston upon Thames, as well as for London, Surrey, and the rest of the South East.
Whether it's a house extension, a commercial upgrade, or a flat rewiring in Thames Ditton, with us you can be assured that you'll be getting top quality at an affordable price. Safety is of course of utmost importance, and all of our residential and commercial rewiring services in Kingston upon Thames are carried out by highly skilled electricians, all of whom are NICEIC-registered. As well as carrying out the work quickly, considerately and diligently, we also provide you with all the necessary paperwork to prove that the work complies with all UK and European safety legislation.
Providing quality electrical services in Kingston upon Thames and Thames Ditton

We also provide a 6 year guarantee for both components and any work carried out for your total peace of mind. Many people take electricity for granted, which can make it all the more frustrating when you find yourself without it, and for business owners in particular can be very costly in downtime.
With condition reports starting from £150, and property re-wiring in Kingston upon Thames from £1500, you can be sure that you're paying for top quality components, as well as friendly, professional and highly skilled electricians. No job is too big or too small, and for larger jobs we are happy to provide a free estimate.
So why choose MD Bespoke Solutions for your house rewire in Kingston upon Thames?
Friendly, professional service
Member of Trustmark, a government initiative promoting reputable tradespeople
Many years of experience
Honest about cost, we won't spring you with any surprise charges once the work has been completed
6 year guarantee
Commitment to safety
But don't ask us; take a look at some of the glowing reviews we receive on Checkatrade, where 80% of our customers say that they would recommend us to others.
Some of our essential electrical services in Kingston upon Thames include:
House/flat rewiring
Replacement electrics
Electrical system upgrades
Interior/exterior lighting
Smart technology
CCTV and security alarms
Electrical condition reports
So when it comes to electrical services in Kingston upon Thames, whatever you're looking for why not get in touch to find out more about what we do and how we do it. You can contact us via our contact form, by email at info@mdbespokesolutions.com, or by phone on 020 8265 2061, and one of our friendly team will be happy to talk you through how we can help with your individual requirements.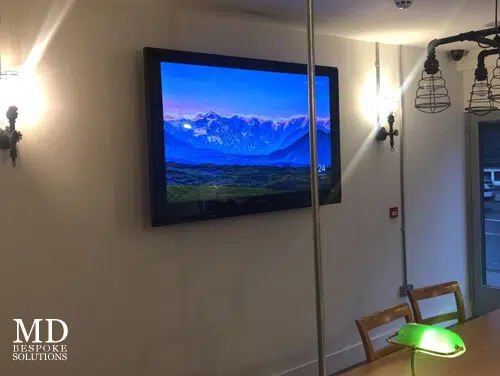 Providing rewiring in:
TeddingtonRichmond Upon Thames Strawberry HillWhittonTwickenham