Get your property rewired by a local electrician in Isleworth
Rewiring your house in Isleworth or West Middlesex is an imperative safety measure if your electrical installation is old. Whilst old and degraded wiring may cause issues like flickering lights and blown fuses, old wiring has the potential to cause fires or electric shocks and all too often people fail to address the issue and suffer devastating consequences as a result.
Here at MD Bespoke Solutions, we are rewiring specialists working throughout London, Surrey and the South East and no job is too big or too small for our team of NICEIC-approved electricians. We have rewired hundreds of homes, offices, flats and shops and we can suggest quality wiring for solutions for any building. If you are looking to save money, we can advise about energy efficient design, lay out and products.
Most people do not give much thought to what is behind their walls. Yet every time you turn on the kettle or switch on a light, you are drawing on your property's internal wiring. After many years an electrical system can deteriorate and become dangerous to use. Are you experiencing any of the following?
A persistent burning smell in the house and you can not identify the source
Circuit breakers that regularly trip or regular blown fuses
Scorch marks around sockets or switches
Flickering, buzzing or dimming lights
Frayed electrical wires
If so, you need a professional to complete an inspection as soon as possible. As a word of caution, homeowners should never perform their own testing or repair of electrical devices or wiring within their homes. By UK law, all work to electrical installation must be done by a registered Part P electrician. Read our blog about the importance of building regulations and electricians.
To speak to one of our friendly and professional team, ring us on 020 8265 2061 or 07476 661 777.
Consumer unit upgrades in West Middlesex
Consumer units, otherwise known as fuse boards or fuse boxes, regulate the distribution of electricity within your property. In the event of an overload the fuse that corresponds with overloaded circuit will blow cutting off electricity to that particular part of the installation. If your fuse board is malfunctioning, then it poses a significant safety risk and it is important that is is upgraded to incorporate newer technology.
Current 17th Edition switchboards are fitted with miniature circuit breakers (MCBs) and RCD safety switches that cut off the power supply as soon as a fault is detected, preventing electrocution and circuit overload. If you have an older-style fuse board, then upgrade to a new one today to protect your home or workplace. Our consumer unit upgrades start from just £399, so call us now!
For rewires, consumer unit upgrades and other electrical services in Isleworth, contact us today
For a free, no-obligation quote, call us now on 020 8265 2061, email info@mdbespokesolutions.com or fill out an online form and we will call you back.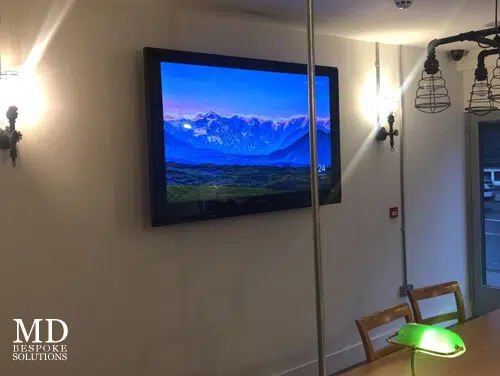 Providing rewiring in:
Woodlands
Lampton
Syon Park