High quality rewires in Harrow
Are your fuses blowing often? Do you have old electrical accessories such as black insulated rubber cables? Do you have round-pin plugs? Then it is time to employ an experienced electrician to see if your property in Harrow or Wealdstone needs rewiring. It is recommended by NICEIC that all houses should have their electrical wiring systems checked at least every ten years.
Around 12,500 fires a year are started in homes by old or faulty electrical wiring. Safety is our number one priority and our electricians have the expertise and knowledge to plan and install new wiring into your extension or completely rewire your property, whatever the size so it complies with current regulations and legislation.
If any of these features are present in your home, then your electrical system is probably too old and will need to be rewired:
Cables coated in black rubber
Cables coated in fabric or lead
A fuse box with a wooden back
A fuse box with cast iron switches
Old round-pin sockets and round light switches
Burn marks around sockets and switches
A burning smell with no identifiable source
Wall mounted light switches in bathrooms
If you would like to contact MD Bespoke Solutions to find out more, please call the numbers: 020 8265 2061 or 07476 661 777. Alternatively complete an online contact form and we will call you back within 24 hours.
Local emergency electricians for repair and installations in Harrow
Here at MD Bespoke Solutions we undertake all types of electrical services, including:
Consumer unit upgrade and repairs: Your consumer unit is the heart of your electrical system and distributes all the electricity to the different circuits. Old and outdated consumer units can be dangerous and compromise the safety of your home. Choose MD Bespoke Solutions for all your consumer unit upgrades.
Lighting: We pride ourselves on offering expert lighting design solutions to really change the ambience of your home. We can advise of the lighting you might choose and how to save energy. Read about how to light an office while saving energy in our blog.
Intruder, smoke and fire alarm installations: We can professionally install intruder and fire alarms into your home and can offer a range of options, whatever your budget. There is a huge range of installations available, such as intruder alarms that can be linked up to your lighting or alarms that will notify your mobile phone if they go off.
Emergency repairs: We carry out all types of electrical repairs and fault finding and are available 24 hours a day to help. We offer competitive prices with free quotations.
CCTV: We are experts in CCTV installation, maintenance and repair for domestic and commercial properties.
For free quotes for all electrical work in Harrow, please get in touch
Want to know more? For any questions, quotes or free advice from our dedicated team, we can be reached on 020 8265 2061 or 07476 661 777 or you can email info@mdbespokesolutions.com and we will call you back.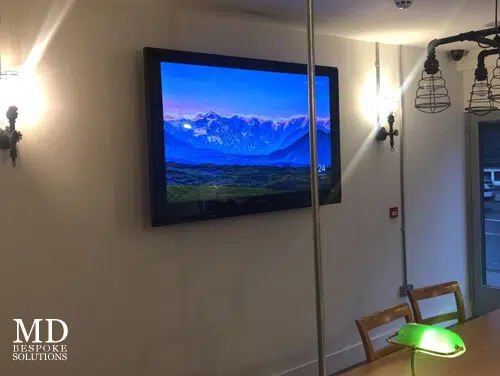 Providing rewiring in:
Hatch End
Bushey
Stanmore
Whitchurch