House rewires in Harringay
Many houses and flats in Harringay or Seven Sisters that were constructed prior to 1980 will be in need of rewiring because the materials used and methods of installation are out-dated and unsafe. Degeneration of cables, wiring and electrical installations are not only unsightly but could also potentially cause electrical fires and in the worst cases, electrocution. Here at MD Bespoke Solutions, we specialise in all areas of electrics, including partial or full house rewires.
As part of our house rewires, we renew all cabling, switches and power points. We can also add new ones for extra sockets or if your rewire forms part of a refurbishment or bigger building project, we can do all your extension electrics. We will also install a new consumer unit with modern circuit breakers. The amount of time each job takes varies according to how complex it is, but a full rewire can completed in just 4 days and costs as little as £1500.
Our local electricians are NICEIC-approved and Part P registered so if you are concerned about the state of your electrics, stop now and call us. We often recommend carrying out a full Electrical Installation Condition Report, which will look at your entire electrical system and advise on what needs work.
For more details or for advice about any electrical work, please call us on 020 8265 2061.
Can I live in my Harringay home while it is being rewired?
Rewiring is a big job that involves flooring being lifted and walls disrupted. Yes, it is possible to rewire a home, room by room. It will take slightly longer than usual but you will be able to live there and carry on your life as normal, with power and cooking facilities. We always make every effort to minimise disruption to you.
Consumer unit upgrades in Harringay
It is always a good idea to ensure the electrics in your home are up to date and safe and that includes the fuse box, or consumer unit, which is the heart of your electrical system. Modern fuse boxes incorporate RCD's (Residual Current Device), a safety device designed to protect against personal electrical shock. These trip when the circuit overloads protecting the wiring from burning out and you and your family from getting nasty electrical shocks.
How can you tell if yours needs to be replaced?
Burn marks on the fuse board
Old-fashioned fuses
Too many appliances running on one circuit
A new consumer unit can be replaced in less than a day and we will ensure your new installation meets current safety standards and is installed to the highest quality. Read about why not to change your consumer unit yourself on our blog. Our prices start from just £399.
Please contact our Harringay electricians for details of our rewires and more
As well as rewiring and consumer unit upgrades, we can help with lighting, CCTV, fire alarms, emergency repairs, smart technology and a host of other services. For a free quote, please phone us on 020 8265 2061, email us at info@mdbespokesolutions.com or fill out our online contact form.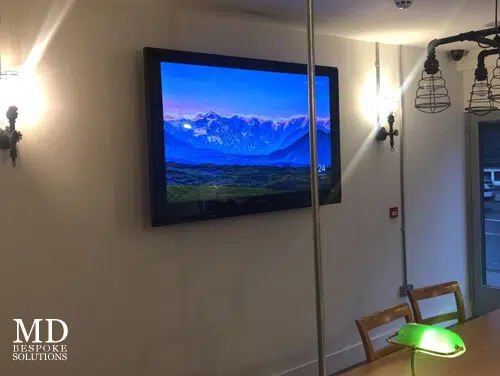 Providing rewiring in:
Hornsey
Wood Green
Upper Holloway
Tottenham
Lower Holloway
Upper Clapton
Palmers Green