Expert installation of fire alarms in Norwood
Ensure your Norwood home or office is safe with professionally fitted fire alarms
Are you concerned about fire safety in your home? Fire alarms are complex systems and you may only find out yours is not working after it's too late. Correct and professional installation will mean your alarm will work flawlessly when you need it most. MD Bespoke Solutions offers expert installation and maintenance of high quality detection systems in Norwood and the surrounding areas in the South East.
Our expert installation and maintenance team have years' of experience of fire safety and are proficient in fitting all types of fire alarm systems. We can liaise with you to discuss all health and safety and accessibility issues making sure you get the perfect smoke alarm system for your domestic or commercial property.
Domestic fire alarm installation
Your family's safety is of utmost importance to any homeowner but all too often smoke alarms are not installed or tested properly, compromising their protection. Fire systems have been proven to greatly reduce the risk of injury and loss of life, while also minimising damage to your property.
MD Bespoke solutions can offer a wide range of home fire alarm systems that detect heat, smoke and fire. Our expert team can advise you on the best system to cover every inch of your Norwood home and will install the systems efficiently and professionally, causing minimum disruption to your home.
Our wireless systems are unobtrusive and hi-tech and are able to link to an alarm, a 24-hour monitoring centre of even a mobile phone. All of our systems are designed to ensure ease of use and meet, and often exceed, current health and safety standards.
Fire alarms systems for commercial Norwood properties
When it comes to any workplace, safety is paramount and it is statutory for any business to have systems in place. MD Bespoke solutions can advise business owners on the best and most cost effective solution for their premises.
We are flexible and work around the clock to cause is little disruption as possible. All the necessary certificates and documentation that authorities need will be supplied on completion of the fire alarm installation.
Maintenance and servicing of your Norwood fire alarm system
Once you've got your new fire alarm system in place it is important to make sure that it continues to work perfectly. MD Bespoke Solutions offers a range of maintenance services and inspections to ensure your system gives you the very best protection at all times.
Get in touch with your Norwood expert today!
For more information about fire alarm installation and maintenance ring us today for a free, no-obligation quote on 020 8265 2061, email us at info@mdbespokesolutions.com or by filling out the online contact form here.
In addition to this, MD Bespoke Solutions offers a full range of electrical services, including home rewiring, electrical fault finding, indoor and outdoor lighting, consumer unit replacements, CCTV installation and intruder alarms and lighting design. We take pride in offering our customers the best service possible.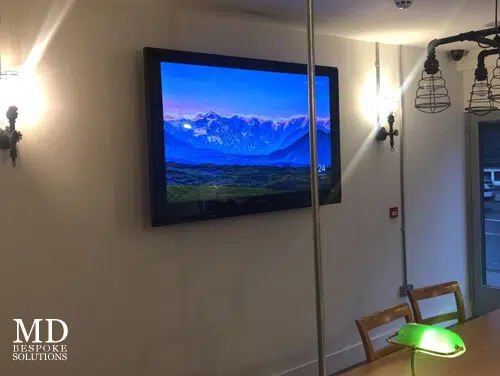 Providing Fire Alarm Installs in:
Thornton Heath
South Norwood
Elmers End
Lower Norwood