For a truly professional electrical service in Brixton or Stockwell, choose MD Bespoke Solutions
Do you live in Brixton or Stockwell?
Are you looking for dependable and fully qualified electricians to assist you in improving or repairing your home or business?
You've come to the right place.
We offer a full range of electrical services, including house rewiring, installing exterior lighting, electrical installation condition reports and consumer unit replacement. If you're a landlord, we can provide a tailored solution for your property's electrical maintenance needs with our Landlord Electrical Services. We take pride in offering our clients a first class customer experience, working with them to ensure that we provide the service they need when they need it.
Expert House Rewiring
Period properties in Brixton and Stockwell have great charm and character. They are a wonderful investment, and make a definitive statement about you and your lifestyle. But you need to protect your investment. Period features can often disguise obsolete and possibly dangerous wiring and fittings. Even more recently built properties should be inspected when you move in and when you plan any improvements. You can't simply rely on your survey to pick up any electrical problems that might exist. MD Bespoke Solutions offer a quick, efficient and sympathetic house rewiring service, allowing your home to retain its period charms, bring its safety standards firmly into the 21st century, and give you perfect peace of mind. More...
Exterior Lighting for Leisure and Security

If you are thinking of adding exterior lighting to your home, whether it's for security, turning your garden or patio into that desirable outside room or just for effect, MD Bespoke solutions can ensure that you make the right decisions. We work with you, finding out what you want, discovering what you need, and making recommendations from an extensive range of lighting solutions. Exterior lighting is a smart choice for any home in Brixton or Stockwell with MD Bespoke Solutions.
Consumer Unit Replacement

Your existing fuseboard or fusebox may not be giving you any trouble, but safety standards have changed significantly in recent years. What was once thought to be enough to keep you safe no longer is, especially in older properties. Modern fuseboards, also known as Consumer Units, have the latest RCD technology which can react in milliseconds to prevent a fault that could result in a lethal shock. If you are unsure about your fuseboard, contact us and we can have one of our experts call round and inspect it. If a consumer unit replacement is needed, MD Bespoke Solutions have the experience and skill to make the installation a smooth and seamless one.
Electrical Installation Condition Report

Every electrical installation will deteriorate over time. Wear and tear, accidental damage, overloading and simply age all take their toll. That's why, in order to reduce the risk of shocks and fire hazards, the Electrical Safety Council recommends that regular inspections should take place, and an Electrical Installation Condition Report made. These inspections should take place every ten years for a owner-occupied home, every five years for a rented home or business premises. These inspections should only be carried out by skilled registered electricians, such as MD Bespoke solutions, so call us. It's only common sense.
Landlord Electrical Services
MD Bespoke Solutions are aware of the very special needs that a landlord may have when looking after tenanted residencies in Brixton and Stockwell. We offer a number of different services, all designed to ensure that both the landlord and the tenant are inconvenienced as little as possible in the event of an electrical problem.
Get in touch with your local electrician
For high quality electrical services in Brixton and Stockwell, give the team at MD Bespoke Solutions a call today.
Just ring 020 8265 2061, or send an email to info@mdbespokesolutions.com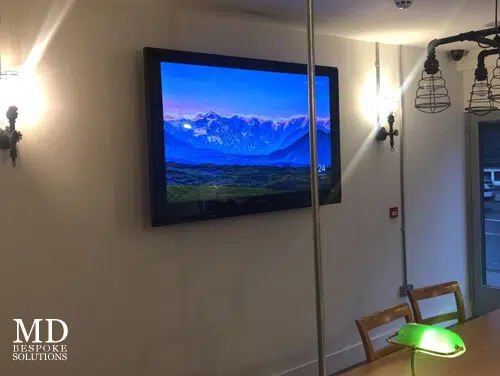 Electricians in:
Herne Hill
Stockwell
Lambeth
Clapham
Brixton
East Dulwich