EICR Testing & Surveys in Tadworth
We offer Electrical Installation Condition Reports near Tadworth, Walton on the Hill and the local areas.
Prices for Tadworth EICR certificates start at just £175. Call 020 8265 2061.
EICR services in Tadworth, Surrey
Whether you're a landlord, property owner, business or private homeowner, you'll each have different requirements and responsibilities when it comes to your electrical systems. Where landlords and businesses have legal obligations, there are recommendations in place for private homeowners and prospective homebuyers too.
Known as EICRs, Electrical Installation Condition Reports are an entire appraisal of the existing electrical system in your home. They must be carried out by an approved electrician registered with NICEIC. This ensures that all work will be completed to the highest standards.
Here at MD Bespoke, we have decades of experience in providing expert electrical services to both domestic and commercial clients in Tadworth and areas all over the southeast. With an extensive project history available for clients to see and an enrollment in the government-backed TrustMark scheme, we are able to provide all clients with a 6-year guarantee.
For reliable EICR services throughout the areas of Burgh Heath, Nork, Netherne-on-the-Hill, Walton, Kingswood Warren, Kingswood Manor, and Gatton, call our office on 020 8265 2061.
Interior and outside lighting experts in Walton-on-the-Hill
As well as EICRs and electrical audits, we provide our clients with interior and exterior lighting design and installation services. We can work closely with you to add ambience to any indoor or outdoor space, using energy efficient fixtures and ensuring that all work is carried out safely, with minimal disruption to you and your home.
Want a free, no-obligation quote for household electrics in Walton-on-the-Hill? Get in touch today.
House rewiring services in Tadworth
Electricity is an essential part of everyday life. From charging devices through to making your morning cuppa, electricity is highly likely to be involved at some stage. That's why it's vitally important that the electrics in your home are able to meet the demands of modern life.
This is why we offer complete, comprehensive and affordable house rewiring services, as well as consumer unit installations, in and around the Tadworth area.
Things to look out for when determining if your home needs a rewire include burnt-out bulbs, tripping fuses, flickering lights, and random power outages. For expert insight into your home's electrical system, schedule a survey by calling us on 020 8265 2061.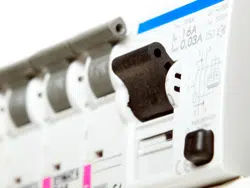 Periodic electrical inspections in KT20
Periodic electrical inspections are critical for ensuring the safety and wellbeing of everyone in a home, caravan, using a swimming pool, or when working in an office.
There are various different recommendations for how often you should obtain one, as well as advice that you should always choose a NICEIC-registered, qualified electrician to ensure that any work carried out complies with the British National Standard for Safety.
Find out more about our services in the KT20 postcode by getting in touch with our friendly team.
Get a free, no-obligation quote for electrical work in Surrey
Need a quote for electrical work from an expert, qualified, and NICEIC-registered electrician? Call us today on 020 8265 2061 or send us an email on info@mdbespokesolutions.com.

Need help with your EICR testing?
Our specialist team are on-hand to help guide you through the steps and keep your premises safe.
Call us now on 020 8265 2061 / 07476 661 777