EICR Testing & Surveys in Swiss Cottage
We offer Electrical Installation Condition Reports near Swiss Cottage, Primrose Hill and the local areas.
Prices for Swiss Cottage EICR certificates start at just £175. Call 020 8265 2061.
Periodic electrical inspection services in Swiss Cottage, NW London – Book a new EICR today
Are you looking for reliable EICR solutions in your local area? Get in touch with the team at MD Bespoke Solutions. Our professional engineers are part of an experienced NICEIC approved company, completing electrical installation condition reports at domestic, commercial and landlord owned properties. Get an urgent electrical safety audit in Swiss Cottage, Primrose Hill, St Johns Wood, Camden or Highgate.
Our electrical engineer team performs in-depth examinations of your current electrical installations, making sure they've stayed in a safe condition and won't require upgrades to remain compliant with British Standards. After the electrical inspection is completed and any repair work is scheduled, you can rest assured you've met your EICR targets.
Our customers enjoy value for money services when hiring our contractors, and you'll get lots of other benefits from choosing us. This includes:
Access a range of professional electrical services (e.g. rewiring and lighting)
Repairs, installations and testing
Excellent customer service
High-quality outcomes
Competitive rates
Free no-obligation estimates
To get started or book a visit from a qualified electrical contractor, get in touch now.
Reliable Primrose Hill electrical contractors
Booking regular EICRs in Primrose Hill and Swiss Cottage can save lives, especially if a fault or hazard is detected that you would've been unaware of until an accident or system breakdown occurred. Electrical condition reports are one of the easiest ways to check the existing condition of your electrics.
Landlords, property managers and businesses must ensure this type of electrical inspection report is scheduled at least every five years or when a new tenant moves in. If not, you could be negating your property insurance and putting your staff, the public, tenants and visitors at risk, breaching health and safety laws. New rules have recently come in for landlords owning private rentals, so please don't miss this change in the law.
We can also provide electrical certifications for homeowners too, including a home buyer electrical report as part of property sale requests.
NW3 NICEIC approved testing experts
If you've been searching for an NICEIC approved contractor in NW3 locations, always check the accreditations of any company you hire.
We're leading the way in the local area with our high-quality electrical inspection services, ensuring you get the most up to date and relevant tests for all your installations. Our team is highly trained, qualified and experienced in electrical work, and you can rest assured our work is guaranteed by a top quality scheme.
When you get your report, it should detail what was checked and any hazards or risks to be aware of. If there's an issue we feel needs addressing, this will be assigned a code, which lets you know whether any action is urgent or not.
Request a new electrical certification near Swiss Cottage – free, competitive quotations
To ensure your property's electrics remain in a high-quality, safe condition, arrange Swiss Cottage EICR services now at your home or business. If you'd like to ask us anything about what to expect during the process or the times we can attend, give us a call without hesitation. We're a friendly, approachable team who can tailor all solutions to your needs.
To book a new appointment with our trained contractors, send a quick message to our email address at info@mdbespokesolutions.com or call 020 8265 2061.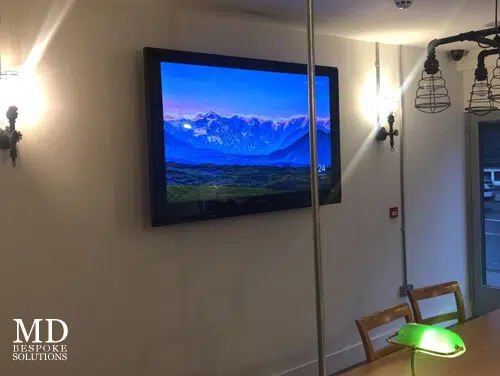 Issuing electrical safety certification in and around:
St Johns Wood
Camden Town
Cricklewood
Willesden Green
Saint Pancras
Golders Green
Need help with your EICR testing?
Our specialist team are on-hand to help guide you through the steps and keep your premises safe.
Call us now on 020 8265 2061 / 07476 661 777