EICR Testing & Surveys in Rainham
We offer Electrical Installation Condition Reports near Rainham, Upchurch and the local areas.
Prices for Rainham EICR certificates start at just £175. Call 020 8265 2061.
Professional, affordable & reliable electrical technicians in Rainham, East London
Are you concerned about the state of your existing electrical installations? Have you recently moved into a stunning period property with a consumer unit that has large, ceramic switches? Or, are you a landlord with existing tenancies? If any of those are the case, you're likely to need an electrical installation condition report (EICR) to determine what needs to be done, or you may wish to opt for a property rewire to solve any potential problems that might occur down the line.
Operating in and around East London and covering the areas of Lower Halstow, Gillingham, and Newington, MD Bespoke boasts a team of highly-skilled electrical contractors that are on-hand locally in Rainham.
We are registered on Checkatrade, TrustMark, GasSafe, Federation of Master Builders, and we're NICEIC registered too (more on that below), giving you complete peace of mind when it comes to the quality of our work.
As well as EIC reports, MD Bespoke offers a variety of other services, including plumbing and building work, across the areas of London, Essex and Surrey. To find out more about both our EICR contractor services and other areas of expertise, you can contact us on 020 8265 2061.
Domestic & commercial electrical audits in Upchurch 
Almost half of all homes in the UK have security cameras, most people remember to check and change the batteries in their smoke detectors, and many people ensure that all doors and windows are locked at night. What many people don't realise, however, is the risk posed by unchecked electrical installations.
A quarter of all house fires in the UK are caused by faulty electrical wiring. Whether it's outdated components, exposed wiring or a lack of earthing, it's going to cause a significant risk in your home. You can ensure that your property is completely safe by opting to have an electrical audit undertaken by a trusted, reputable electrical contractor. If you're in the Upchurch area, that's us!
As well as operating in and near Upchurch, our services are also available in Bredhurst, Brompton, and Chatham.
Property rewire services in Rainham
If you're not sure whether your home needs rewiring, there are a few things you can look out for in order to tell.  While you can read the full list in our blog here, the most obvious ones are:
Your wiring hasn't been checked since 2005: In 2005, new legislation came into place meaning that all electrical work must be carried out by a part-registered electrician. If yours hasn't been checked out since, it might not be up to standard.
Blown fuses & tripping breakers: Unless you're living very extravagantly, there's no reason for this to occur regularly, and if it is, it might be a sign that your electrics are outdated or unable to keep up with your demands.
Flickering or dimming lights when you plug in an appliance: While you might be convinced you have a supernatural visitor, if this happens in your home it's highly unlikely to be paranormal. It usually means that your electrical appliances and lights are running on the same circuit and that the energy is not being transmitted effectively.
If you're searching for "trusted electrical contractors near me" our local experts cover a wide range of East London areas, including Rainham and Upchurch.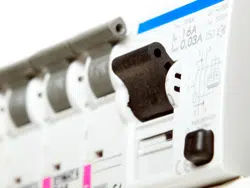 NICEIC approved electrical contractors in RM10
If you're in need of an electrical survey, certification, inspection or are simply trying to find a reputable electrical contractor in the RM10 area, look no further than MD Bespoke.
We are fully NICEIC registered, meaning NICEIC regularly assesses and certified our contractors.  They assess electricians, renewable energy installers, plumbers, and gas and heating engineers. If you hire a contractor who is NICEIC registered, you can benefit from the peace of mind that they undergo regular assessments to ensure that all of their work complies with the highest safety standards.
If you have any questions about our certified status, or the work that we undertake, we're on hand to take your call. Simply get in touch with us online or call the office on 020 8265 2061.
Get a free, competitive quote for all types of electrical certification reports in East London
Here at MD Bespoke, we understand that property ownership and letting can be a time-consuming and expensive process, which is why we strive to offer an on-budget and on-time service at a competitive price. With local contractors available in the area of Rainham, we'll have your problem solved in no time.
To see if MD Bespoke is a good fit for you, you can request a free, no-obligation quote by calling us on 020 8265 2061, or by sending an email to info@mdbespokesolutions.com.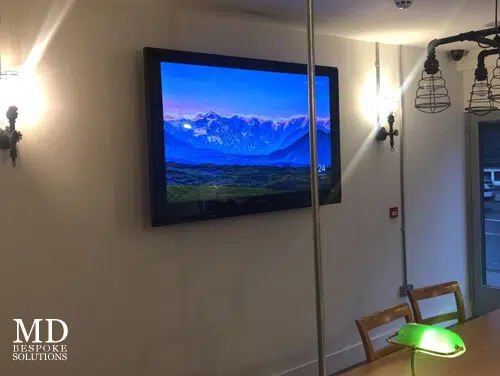 Issuing electrical safety certification in and around:
Upchurch
Lower Halstow
Gillingham
Newington
Bredhurst
Brompton
Need help with your EICR testing?
Our specialist team are on-hand to help guide you through the steps and keep your premises safe.
Call us now on 020 8265 2061 / 07476 661 777