EICR Testing & Surveys in Herne Hill
We offer Electrical Installation Condition Reports near Herne Hill, East Dulwich and the local areas.
Prices for Herne Hill EICR certificates start at just £175. Call 020 8265 2061.
Do you need electrical condition reports, commercial condition reports and electrical certification in Herne Hill? MD Bespoke Solutions are the team to call!
At MD Bespoke Solutions, we offer a range of electrical services all provided by our Part P and NICEIC-approved team of electricians in Herne Hill and East Dulwich. Our dedicated and friendly electrical contractors ensure that we are able to provide you with help or advice with any electrical query no matter how big or small. As well as helping with all manner of electrical testing, we also offer a varied range of electrical and home improvement services.
These include:
Electrical Installation Condition Reports (EICR)
Domestic electrical safety reports
Commercial electrical safety reports
Full and/or partial rewiring of houses in Herne Hill
Electrical safety audits
Electrical certification
Consumer unit replacements
Inside and outdoor lighting
Smart technology
In 2012, the Periodic Electrical Inspection Reports were replaced by the EICR and are recommended to be performed every 10 years for domestic homeowners. For landlords and commercial property owners, we recommended this service is performed every five years. It is a legal obligation to be able to produce this report as if there is injury resulting from an electrical fault, you might be liable for legal action. All electrical systems deteriorate over time, from general use, wear and tear and environmental issues. Read our blog: Why do I need a certified electrician?
If you have a project that you need help with or you have any concerns about a property you live in or let out, call 020 8265 2061 for a no-obligation quote or friendly advice.
What does an EICR do? How can I get one in area local to Herne Hill?
The EICR test covers everything electrical in your home or commercial property, not just appliances. At MD Bespoke Solutions, we will ensure that a dedicated team of qualified and professional electricians working in your area will come and perform a formal assessment of the electrical installation within a property. Our team will look at operation and safety of all the fixed wiring and highlight and faulty or defective work.
This includes looking at, amongst other things:
All wiring and its condition
Identifying any defective or dangerous wiring.
Highlighting any lack of bonding and earthing
Identifying any dangerous or rogue electrical work, potentially dangerous 'quick-fixes' and DIY solutions that aren't up to industry standard
Any changes that have taken place in the house or commercial unit that might lead to unsafe conditions
Checks on all appliances, sockets and plugs to check efficiency and safety
The formal document produced after the inspection has taken place (the EICR) include codes that will help easily identify the extent of the issues and flag up any areas of concern.
The three codes that our qualified electricians might use in the report will help clarify the issue. These are:
Code 1: There is danger present and occupants are at risk of injury. Immediate action is required.
Code 2: Not as critical as a Code 1 but an issue has been found that is potentially dangerous and installation needs to be brought up to standard. Urgent action is required
Code 3: There isn't an immediate danger (code 1 or code 2) but it is advised that an issue is resolved to make the system up to standard. Improvement is needed.
EICRs for landlords near Herne Hill, London: Keep your tenants safe!
It is your responsibility to ensure the safety of tenants living in your property by having an EICR every five years. This will ensure the electrical installation in your property is safe. If you fail to have one regularly, or when new tenants move in, you could be found to be negligent in the event of an injury caused by faulty wirings or fittings.
As well this by law, landlords must:
Have all electrical installations, such as sockets, light fittings and plugs are safe and well maintained.
Respond to queries from a tenant if they feel a particular electrical appliance or socket is unsafe
Ensure that all electrical appliances that are supplied kettles and cookers for example are all CE rated as a minimum.
Electrical inspection reports in Herne Hill and East Dulwich call us now!
Get in touch with MD Bespoke Solutions today and we will be able to assist you with all your electrical requirements. Please call now on 020 8265 2061 or fill in an online enquiry form. Alternatively, email us on info@mdbespokesolutions.com and we will aim to respond as soon as we can.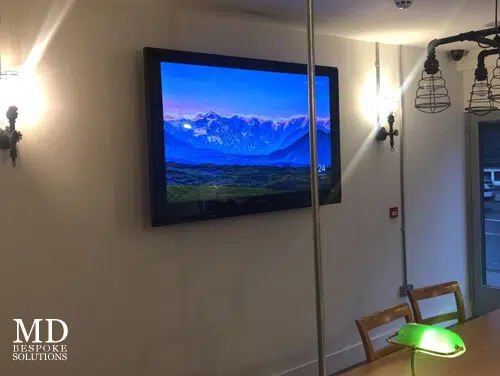 Issuing electrical safety certification in and around:
BalhamBrixtonCamberwellClaphamDulwichEast DulwichSouthwarkWest Dulwich
Need help with your EICR testing?
Our specialist team are on-hand to help guide you through the steps and keep your premises safe.
Call us now on 020 8265 2061 / 07476 661 777