EICR Testing & Surveys in Cockfosters
We offer Electrical Installation Condition Reports near Cockfosters, Barnet and the local areas.
Prices for Cockfosters EICR certificates start at just £175. Call 020 8265 2061.
Experienced electrical contractors for EICRs in Cockfosters, London
An electrical installation condition report (EICR), sometimes called an electrical safety test or certificate is produced when a periodic electrical inspection is carried out on a building or property by a certified electrician. MD Bespoke Solutions have a team of experienced electrical contractors in Cockfosters, Barnet, or Whetstone who are NICEIC-approved, so you can feel sure they are competent, professional, and meet the highest technical standards.
We provide a vast range of electrical services, including electrical rewiring, consumer unit upgrades, lighting design and installation, electrical repairs, electrical safety audits, and more.
There are many reasons why you might want electrical testing or inspections in your home for insurance purposes, change of use or ownership, or if you are concerned. For commercial properties, it is a legal requirement to have an electrical safety test conducted at regular intervals.
To request an EICR quote, please ring now on 020 8265 2061.
Electrical safety audits near Barnet: Why are they important
Our team of electricians works throughout Barnet, Cockfosters, and Chipping Barnet. Over time, all electrical systems will degrade; connections can become loose or cables deteriorate. This can result in electric shocks, burns, or fire. Electrical risks are part of life but they need to be managed effectively through regular electrical testing and auditing, so property owners and managers can be informed.
We can carry out:
Electrical installation condition reports (EICRs) or certificates
Part P certificates
Domestic installation condition reports
Home buyer electrical surveys
Portable appliance testing (PAT testing)
EN4 commercial condition report
Our approved electrical contractors and electricians can check the installation against the requirements of BS7671, which is the national safety standard for electrical installations.
In a commercial environment, a commercial condition report in Cockfosters is a legal essential and you may often also need the document for insurance purposes.
The test will look at all parts of the system including:
The adequacy of bonding and earthing
The switchgear and control gear to ensure they are suitable and up-to-standard
Serviceability of the equipment
Type and condition of the wiring system
The presence and functionality of residual current devices (RCDs)
Extent of any damage or wear and tear of the system
Changes in use of the premises that could alter the condition of the electrical system
Home buyer electric reports in Cockfosters
We highly recommend that home buyers have EICRS, sometimes called house buyer or home buyer electric reports before purchasing a property in Cockfosters. According to Electrical Safety First, over a third of buyers have the electrics checked before they purchase a property. Many believe that thorough electrical checks should be included in recommended home surveys and under half did not know that checks were even needed at all.
The cost of correcting electrical issues can run into thousands of pounds, so it is important that if updates need to made, that they are factored into the cost of the purchase.
For NICEIC-approved electrical safety audits in Cockfosters, call our electric contractors
Need advice about electrics and electrical safety in Cockfosters? Please call our team now on 020 8265 2061 or email info@mdbespokesolutions.com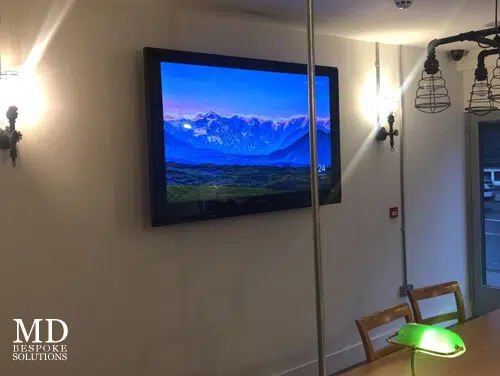 Issuing electrical safety certification in and around:
Chipping Barnet
East Barnet
New Southgate
Totteridge
Whetstone
Winchmore Hill
Need help with your EICR testing?
Our specialist team are on-hand to help guide you through the steps and keep your premises safe.
Call us now on 020 8265 2061 / 07476 661 777