Expert complete and partial rewires in Worthing
If your property in Worthing or Shoreham needs rewiring, then you'll need reliable team of Part P electricians to do the job. We are specialists in rewiring domestic and commercial properties in the South East. We take health and safety very seriously and as well as being Part P trained, we are NICEIC-approved, so you can feel confident that any electrical work is being done to the highest standards. We plan carefully and prepare and consult well with our customers, to ensure complete satisfaction.
A complete rewire will be required if the wiring in your home is old and outdated, putting you at risk of shocks or fire. Over time, deterioration of any electrical installation could become an urgent safety matter. Modern electrical cables are grey or white and coated in uPVC, so one of the first signs your electrics might need attention is if your cables are black.
Modern systems also put a much higher demand on the electricity system than ever before. With more and more technology being included into our lifestyles, our use for power is only ever going to increase. Apparently 50 per cent of new homeowners require additional sockets or outlets within 12 months of purchasing a new property, so if you are thinking of renting or selling your property, this is also a consideration. No mortgage lender will lend a potential homeowner money on a house that is considered at risk of fire damage. Read our blog about selling your home and safe electrics.
If you have concerns about your electrical system, would like to ask us any questions or for a free quote, please call 020 8265 2061 or 07476 661 777.
Why can't I do a rewire in Worthing myself?
As of 2005, it become UK law that any important work should be done by a qualified Part P electrician and there are strict limits on the work you can do yourself.
These include the replacement of existing accessories such as damaged cabling, switches and sockets. House rewiring is a huge undertaking and should be carried out by qualified and experienced electricians.
After any rewire, MD Bespoke Solutions electricians will issue you with the relevant paperwork and also notify the Local Authority Building Control on your behalf to tell them that your house has been successfully rewired.
Fuse board replacement in Worthing
Far too many homes still have old fuse boards, which will put you and your family at risk of electric shocks. New 17th edition consumer units will bring your home up to current electrical safety standards. They are also easy to operate so if a fuse blows and your system is old, you will have to change a fuse wire but if miniature circuit breaker (MCB) blows on the new board, you just switch it back on. We have completed hundreds of fuse board replacements in your local area.
For rewiring enquiries in Worthing
For more information, please call 020 8265 206 or 07476 661 777, email info@mdbespokesolutions.com or fill out an online contact form.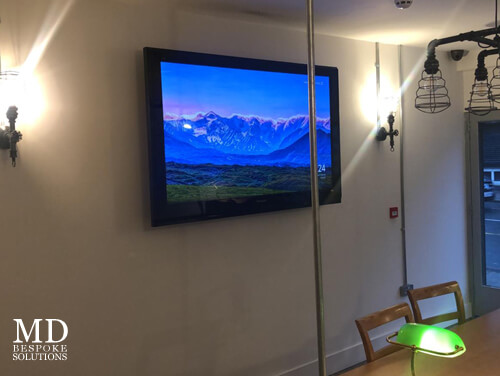 Providing rewiring in:
Broadwater
Lancing
Goring
Findon