House and flat rewiring in Watford and Bushey
Welcome to MD Bespoke Solutions, premier suppliers of house rewiring and electrical services in Watford, Bushey and their surrounding areas covering London and the South East.
We're hugely proud of our professionalism and commitment to excellence, whether it's house or flat rewiring or commercial rewiring for business premises.
With our reliance on electricity it can be all too easy to take it for granted, that is until we find ourselves without it. Power outages at any time are hugely inconvenient, and in the case of commercial services, can end up costing you money in lost work and time. This is why you need to be sure that your electrical services are fit for purpose and up to scratch, giving you peace of mind that they won't fail you unexpectedly.
Highly qualified and experienced electricians in Watford

There's no job too big or too small for our team of highly experienced professional electricians, who endeavour to carry out the work quickly and effectively. All of our electricians are NICEIC-registered, and will provide you with all the necessary paperwork to indicate that your wiring is up to standard meeting all relevant UK and European legislation and, most importantly, safe.
Our services include:
House rewiring
Flat rewiring
Commercial rewiring
Replacement electrics
Electrical system upgrades
CCTV and security services
We also offer much more than just electrical services too. Explore our website, or alternatively get in touch to find out more about what we do. All of our work is covered by a 6 year guarantee for both components and workmanship, so if for any reason you're not entirely satisfied we'll come back and rectify it, no questions asked.
Keeping your property safe
We're enormously proud of our glowing customer feedback, as indicated by our excellent reviews on CheckATrade.com, with 80% of our customers saying that they would recommend our electrical rewire services in Watford to others. We also have a growing section of case studies too. With condition reports starting from £150, and full house rewire from £1500, there's never been a better time to upgrade your electrical systems, or simply make sure they're in good condition for whatever the future holds.
Whether you're concerned about your electrical systems and think they could do with an inspection, or require a full house rewire, flat rewiring or commercial rewiring in the Watford and Bushey areas, contact us today to find out the various options available. Often when people suspect their electrics aren't working at full capacity they simply hope that the problem goes away, however if a serious problem develops it can be enormously costly to fix, and in some cases can even be unsafe.
So why put it off getting your electrics tested and made safe?
Get in touch with us today either through the contact form, by phone on 020 8265 2061, or by email on info@mdbespokesolutions.com to find out how we can help to ensure that your electrical services in Watford are up to scratch.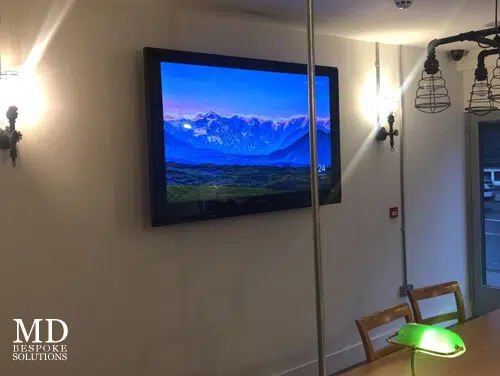 Providing rewiring in:
Bushey
Northwood
Abbots Langley
Chorleywood
Busheyheath
Stanmore