EICR Testing & Surveys in Woolwich
We offer Electrical Installation Condition Reports near Woolwich, Thamesmead and the local areas.
Prices for Woolwich EICR certificates start at just £175. Call 020 8265 2061.
Urgent EICR testing in Woolwich, South East London get in touch now
Contact MD Bespoke Solutions as soon as possible if your latest Electrical Installation Condition Report (EICR) is about to go out of date. With new rules coming into force for landlords, we understand the need for efficient electrical testing in Woolwich, Thamesmead, Plumstead, North Woolwich and Kidbrooke. We can come out to both domestic and commercial properties, having the expertise to find any issues quickly and safely.
Electrical systems are an integral part of the majority of properties. Otherwise, we wouldn't have power for our devices and equipment or even functional lighting. Keeping your electrics up to the required standards creates a safe environment for all, as well as reducing the cost, time and stress of arranging emergency repairs.
To ensure you maintain the integrity of your electrics, always check you have an up to date EICR. We can even provide a home buyer electric report if it's been requested, helping to keep your house sale on track.
Customers choose MD Bespoke Solutions thanks to our:
Competitive rates
Free estimates
Expert advice
Flexible services
Guaranteed work
We offer rewiring, consumer unit replacements, lighting installations and more. We're accredited, insured and registered with NICEIC. Call our friendly team today on 020 8265 206.
Call our electrical contractors to arrange a fast electrics certification near Thamesmead
Our in-depth knowledge of all things electrical makes us the perfect choice to complete your electrical inspection report in Thamesmead and Woolwich. Regular checks are required to ensure any problems are rectified before they become more dangerous. We work in all types of building, from public sector workplaces to residential properties, keeping disruptions to a minimum. We'll provide you with your official report and certification, ensuring work meets the required British Standards for IEE Wiring Regulations.
Once our EIC report is completed, we provide you with a copy for your records. Hopefully, we find nothing which indicates an issue, but if we do, don't panic. We'll talk you through the findings to ensure you understand what's required to bring your electrics up to scratch. Keep our report safe so that you have it at hand for insurance claims and as proof that you've met your legal requirements.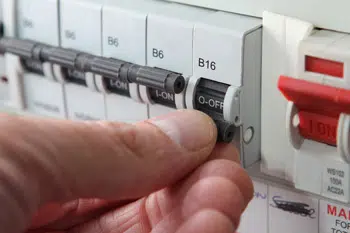 SE18 electrical condition reports
Keeping on top of property maintenance is essential, whether you're a homeowner, business or landlord. As well as EICRs, you may have heard this type of electrical inspection go by other names. This includes:
Electrical safety certificate
Electrical safety audit
Fixed wire testing
Periodic electrical inspection
PIR testing
EIC report
Homebuyer electrical report
These are essentially the same thing, so if you need any type of EICR in the SE18 area, get in touch today. We'll make sure your property electrics are thoroughly checked so that you know there are no major risks forming in the present wiring.
Book NICEIC approved testing with your local Woolwich electrical contractor
Are you looking for a reliable local electrician? We have decades of experience, bringing you professional services that we hope you use again. To make an enquiry or to book an EICR near you, contact our Woolwich electricians now. You can do so by emailing info@mdbespokesolutions.com or calling 020 8265 2061.
Need help with your EICR testing?
Our specialist team are on-hand to help guide you through the steps and keep your premises safe.
Call us now on 020 8265 2061 / 07476 661 777